The designated hotel vendor for the ATS 2022 International Conference is Maritz. As such, the ATS is not responsible for reservations or bookings made with individuals, agents, websites, or entities other than Maritz.
While other hotel resellers may contact you offering hotel services for your trip, they are not endorsed by or affiliated with the ATS and entering into financial agreements with such companies can have costly consequences. If you receive unsolicited messages by companies offering unofficial hotel services for the conference, please forward them to ATS@maritz.com with your name and company/organization.
Be sure to look for the ATS 2022 Official Vendor seal whenever you make hotel arrangements. The seal ensures that your reservations are safe, secure, and officially part of ATS.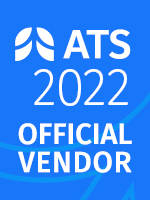 Important Hotel Deadlines and Information:
You must be registered for the ATS 2022 International Conference to obtain a hotel reservation. ATS hotels will not accept reservations directly, and Maritz will not make a hotel reservation for you unless they can confirm that you have registered.
To reserve a hotel room, you must provide a credit card valid through June 2022, or your hotel request will not be processed. Maritz will send you confirmation of your accommodations.
All requests for hotel reservations must be received by Maritz no later than Wednesday April 29, 2022. After this date hotels and rates are subject to availability.
Please review your confirmation and hotel cancellation policies carefully, to ensure that you do not miss any hotel specific deadlines.
Maritz Global Events
Attendees: 864-208-3390
Exhibitors & International Groups: 864-515-6693
ats@maritz.com
International Request-A-Block Housing Quick Facts
Exhibitor Request-A-Block Housing Quick Facts