ATS 2023 IS THE CAN'T MISS IN-PERSON EVENT!
Join us as we reconnect with specialists in all aspects of respiratory health – from clinicians to researchers to educators all of whom share your passion for improving patient care.
ATS 2023 will be a live, in-person conference taking place at the Walter E. Washington Convention Center in Washington DC, May 19-24, 2023.
ATS 2023 showcases the latest advances and discoveries in respiratory science, patient care, and global public health. At this unprecedented time, services you deliver are essential to the breakthroughs and significant contributions that are changing lives and shaping the scientists, healthcare professionals and medical leaders in the field.
Why Exhibit?
Interact face-to-face with physicians involved in patient care
Connect with an expected 10,500 pulmonary, critical care and sleep professionals from the U.S. and around the world
Build visibility for your company, brand, and products
Introduce new products and services
Measure success with lead retrieval and validated third-party attendee audit
Learn with access to educational sessions and networking events (CME/MOC and ticketed sessions not included)
Be at the center of it all!
We invite you to exhibit at the ATS 2023 International Conference in Washington, DC, the place to reunite, reconnect and reengage.
For questions, please contact Steve Strom, Exhibit Sales Associate at sstrom@thoracic.org.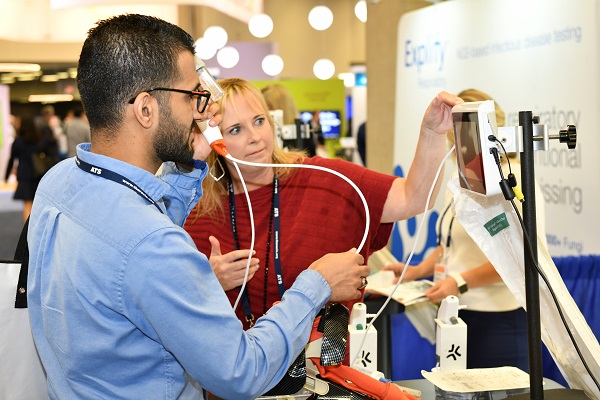 ---
---
A sample of the product categories represented in the Exhibit Hall:
Allergy, Immunology, and Inflammation
Biotech
Diagnostics
Medical Education
Research Products & Services
Pharmaceutical
Patient Education
Sleep Medicine
Software
Publications
---
ATS International Conference Recognition