MAKE PLANS TO EXHIBIT IN ATS 2024
San Diego, CA | May 17-22, 2024
ATS 2024 booth sales are currently underway! Click on the "Reserve a Booth" tile below to select your space or reach out to Steve Strom at sstrom@thoracic.org with questions.
WHY EXHIBIT?
Interact face-to-face with physicians involved in patient care
Connect with an expected 10,500 pulmonary, critical care and sleep professionals from the U.S. and around the world
Build visibility for your company, brand, and products
Introduce new products and services
Measure success with lead retrieval and validated third-party attendee audit
Learn with access to education sessions and networking events (note CME/MOC and ticketed sessions are not included with exhibitor badges)
A SAMPLE OF THE PRODUCT CATEGORIES REPRESENTED IN THE EXHIBIT HALL:
Allergy, Immunology, and Inflammation
Biotech
Diagnostics
Medical Education
Research Products & Services
Pharmaceutical
Patient Education
Sleep Medicine
Software
Publications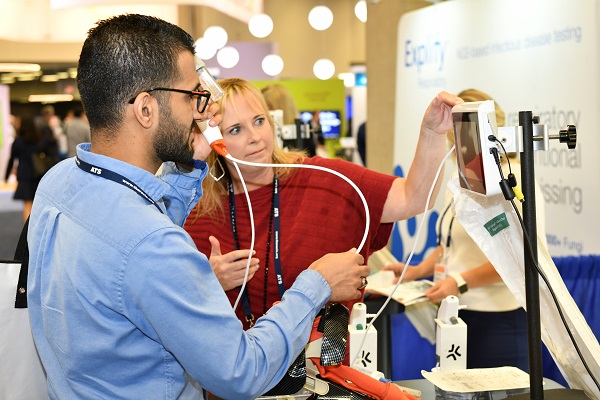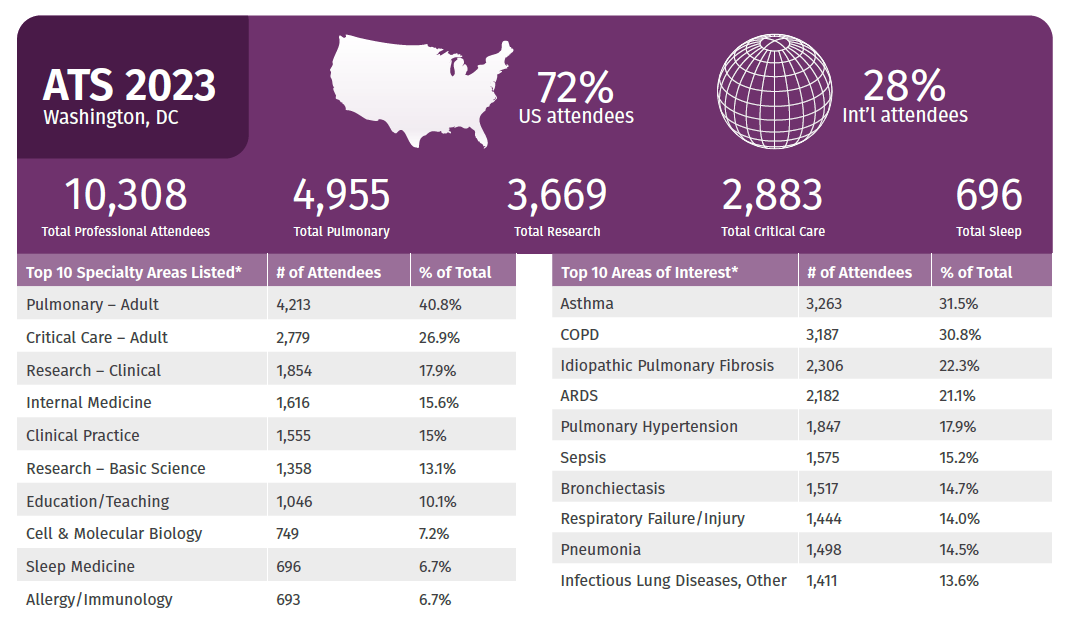 Rates

Inline Space
10' x 10' 
$4,600
Corner Space
10' x 10' 
$4,800
Island (Booths sized 20'x20' and larger)
-
$48 per sq.ft.
* Non-Profit and Clinical Trial Awareness Space
10' x 10'
$1,300
Recruitment Space
10' x 10'
$2,900
*Nonprofit rate is subject to approval. Proof of nonprofit status must be submitted to Steve Strom at sstrom@thoracic.org for all new organizations.
W-9 Form: The ATS's Taxpayer Identification Number (TIN) is 06-1548706. For a copy of the W-9 form please email Steve Strom at sstrom@thoracic.org.
ACH: SAVE PROCESSING FEES - USE ACH. For ACH payments please see invoice for ATS banking information.
Wire Transfer: Accepted from international customers ONLY. An additional fee of $35.00 USD is required for all wire transfers. Please contact Steve Strom at sstrom@thoracic.org for wire transfer instructions and an updated invoice showing the wire transfer fee. 
Company Check: Make check payable to: American Thoracic Society, Inc. (must be in U.S. Dollars, drawn on a U.S. bank, or additional fees will be incurred).
Credit Card: To pay by credit card, please log into your Exhibitor Dashboard and click on the "Submit Payment" tile.
Notice of cancellation and/or downsizing must be made in writing.
A 50%, non-refundable deposit is due within 30 days of booking your booth. A refund minus the cancellation fee of 50% of the total booth price is available until Friday, February 9, 2024. After February 9, 2024, there are no refunds, and the full balance is due. Funds cannot be applied to other opportunities.
For downsizing, half of the priority points for the year are forfeited.
There are no refunds for downsizing booth space.
The ATS retains the right to relocate an exhibitor after downsizing.
The ATS can sell canceled or downsized space to another exhibitor without rebate or permission.
Exhibitors canceling 400 sq.ft. or more are required to lounge the space at their expense and provide a sign that says "This Lounge is Courtesy of xxx".
---
ATS International Conference Recognition