The Preeminent Conference for
Pulmonary, Critical Care and Sleep in the U.S.
May 16-19, 2021 • San Diego Convention Center
This year we invite you to join us and experience a new ATS International Conference. ATS 2021 will be a new hybrid event – with both live and virtual components. We remain committed to providing an environment that fosters discussion of your product or service to pulmonary, critical care, and sleep researchers and clinicians who will participate in ATS 2021. We strive to facilitate beneficial interactions between attendees and exhibitors, as well as help you achieve the greatest ROI for your company.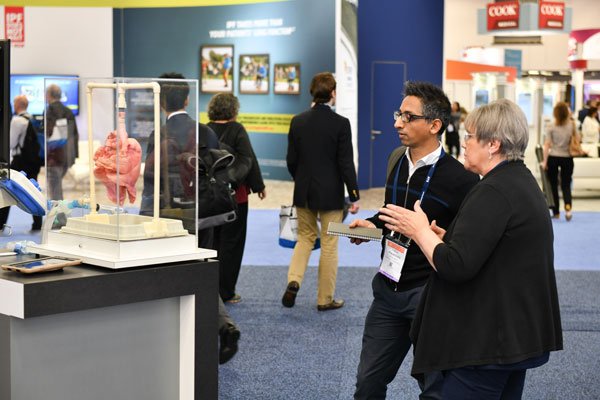 ---
---
A sample of the product categories represented in the Exhibit Hall:
Allergy, Immunology, and Inflammation
Biotech
Diagnostics
Medical Education
Research Products & Services
Pharmaceutical
Patient Education
Sleep Medicine
Software
Publications
---
Your Exhibition and Sponsorship Team

Exhibit Operations
Christine Zahn
Director, Corporate Alliances & Exhibition Operations
Phone: 212-315-8682
czahn@thoracic.org

Exhibit Sales
Steven Strom
Exhibit Sales Associate
Phone: 661-615-3515
sstrom@thoracic.org

Sponsorship and Industry Programs (Non-CME Symposia, Industry Theaters, Practical Workshops, and Guru Bars)
Fiona Zheng
Manager, Corporate Alliances & Exhibit Operations
Phone: 212-315-8605
fzheng@thoracic.org

Sponsorship and Strategic Partnerships
Stacy McManus, CEM
Senior Director, Strategic Business Initiatives
Phone: 212-315-8699
smcmanus@thoracic.org

Business Development
Michelle Turenne
Chief of Development
Phone: 212-315-6448
mturenne@thoracic.org

ATS Corporate Member Program and Educational Grants
Vlada Kagan O'Hara
Assistant Manager, Corporate Alliances
Phone: 212-315-8686
vohara@thoracic.org
---
ATS International Conference Recognition