Resident Boot Camp
---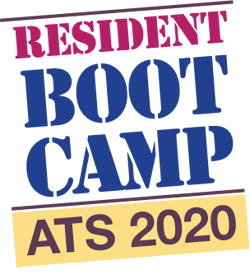 The ATS would like to recognize the following 2020 Resident Boot Camp Recipients! Unfortunately, as a result of the COVID-19 epidemic and ensuing public health crisis currently facing the global community, all 2020 ATS International Conference activities have been cancelled. The ATS would still like to honor and recognize the awardees, please click here to view the list.
Results of the lottery will be emailed on or before February 17, 2020. Please note that the Boot Camp course can accommodate 160 attendees; those who are not selected to attend the live course will be automatically enrolled in the 2020 ATS Boot Camp Virtual Course.
If you have any questions, please feel free to reach out to Lauren Lynch (llynch@thoracic.org) or Rebecca Fisch (rfisch@thoracic.org). Good luck!!
---
Program Overview
The ATS Resident Boot Camp is a two-day course for internal medicine and pediatric residents (as well as chief residents and hospitalists) scheduled for Friday May 15 and Saturday, May 16, 2020, in Philadelphia, Pennsylvania. The Boot Camp is for fellows who have matched into a fellowship program for July 2020.
The goal of the Boot Camp is to prepare fellows entering an adult or pediatric pulmonary or critical care fellowship with the information, confidence and knowledge needed to flourish on the first day of fellowship.  The course will include large and small group breakouts and hands-on workshops. The Boot Camp recruits over 140 of the best faculty teachers from across the country to teach at this course. These educators are the heart and soul of this very exciting course!
---
Course Objectives
Participation in the ATS Resident Boot Camp allows attendees to:
Acquire knowledge of basic techniques and principles of mechanical ventilation, airway management, and bronchoscopy (indications, techniques, and limitations).
Attain skills in vascular, thoracic, and pleural ultrasound image acquisition for ultrasound-guided procedures and diagnosis (pneumothorax, thoracentesis, line placement, right ventricular dilation/dysfunction, volume status).
Improve knowledge base in cardiopulmonary physiology.
Develop strategies to successfully manage common clinical emergencies encountered as a fellow.
---
How Do I Apply?
The 2020 Boot Camp course is for internal medicine and pediatric residents (U.S. and international) as well as hospitalists who have been accepted into a pulmonary or critical care fellowship program beginning July 2020.
To register for the lottery, please complete a brief survey
Registration into this course will be a randomized lottery for 160 slots
Results of the lottery will be emailed on or before

February 17, 2020

If you have questions about criteria or eligibility, please email Lauren Lynch, director of education programs, at llynch@thoracic.org or call 212-315-8698.
---
Agenda, Tracks and Topics
The Boot Camp features two tracks- adult and pediatric. The final 2020 Boot Camp agenda will be available in early 2020; below are the list of topics that will be coered during the course:
Adult Track Topics
Large Group Sessions
Top ICU Emergencies w/shock
How to Read a Chest CT
Top Pulmonary Consults
Complex Clinic Patients - Cases/Imaging
Small Group Sessionns
PFT Interpretation
Pulmonary Physiology
Circulatory Failure & ECMO
Equipment, Gadgets, and Gear
Hands-On Sessions
Airway 101
Difficult Airway
Bronchoscopy 101
Advanced Bronchoscopy
Mechanical Ventilation
Cardiac Ultrasound w/shock
Acute Respiratory Failure
Lung Ultrasound and Pleural Disease
Pediatric Track Topics
Large Group Sessions
Small Group Sessions
Pulmonary Physiology
Mentor Speed-Dating

Finding a mentor
Life as a fellow (time management, efficiency, work-life balance)
Basic science, clinical research, and other (med ed/QI/safety)
Entering the real world: finding a job and what to do when you grow up
Saying no and managing up
Hands-On Sessions
Airway
Bronchoscopy
Mechanical Ventilation
Non-Invasive Ventilation
Line Placement
Chest Tubes
PFTs
Airway Clearance
---
Virtual Boot Camp
The 2020 Virtual Boot Camp will include webinars, Facebook Live opportunities and access to presentations and teaching materials from the 2020 live Boot Camp course. Those not selected by the lottery to attend the live course will be automatically be enrolled in the virtual course. More information about the Virtual Boot Camp, including how to register, will be available in early 2020.
---
International Boot Camp
In effort to expand the scope of the Boot Camp internationally, the ATS has invited five partner societies to invite fellows to attend the 2020 Boot Camp. For more information about the International Boot Camp, please email Lauren Lynch (llynch@thoracic.org)
---
2020 Boot Camp Leadership Team
Nirav Shah, MD
Chair, ATS RBC (Adult Track)
Matt Drake, MD
Vice Chair, ATS RBC (Adult Track)
Dan Jamieson, MD
Large Group Pillar Chair (Adult Track)
Lekshmi Santhosh, MD, MA
Small Group Pillar Chair (Adult Track)
Briana Short, MD
Small Group Vice Chair (Adult Track)
Anna Brady, MD
Hands On Pillar Chair (Adult Track)
Stephanie Maximus, MD
Hands On Vice Chair (Adult Track)
Trish Kritek, MD, EdM
Chair, International Boot Camp
Morgan Soffler, DM, MD
Vice Chair, International Boot Camp
Laura Crotty Alexander, MD
Chair, Virtual Boot Camp (VBC)
Isabel Pedraza
Co-Chair, Virtual Boot Camp (VBC)
Viren Kaul, MD
Co-Chair, Virtual Boot Camp (VBC)
Deb Liptzin, MD
Chair, RBC (Pediatric Track)
Ryan Good, MD
Chair, RBC (Pediatric Track)
Erin Powell, MD
Chair, Hands-on (Pediatric Track)
---
ATS 2019 Resident Boot Camp Highlights Book
ATS 2018 Resident Boot Camp Hightlights Book
ATS 2017 Resident Boot Camp Highlights Book
ATS 2016 Resident Boot Camp Highlights Book
ATS 2015 Resident Boot Camp Highlights Book
ATS 2014 Resident Boot Camp Highlights Book