Welcome
---
Dear Colleagues,
We invite you to attend ATS 2016, May 13-18, in San Francisco, California. By attending the ATS International Conference, you'll be the first to hear what is happening in pulmonary, critical care, and sleep medicine.
Whether you're a clinician determined to stay at the forefront of practice, a researcher eager to explore an emerging field of science, or a trainee assessing professional pathways, ATS 2016 will help you achieve your goals in a collegial and interactive environment.
As the leading scientific conference in respiratory medicine, results of many major studies in the field have been announced first at the ATS International Conference. Over the years, a number of studies that have changed the practice of medicine and highlighted areas for further research have been presented at the ATS including:
The National Emphysema Treatment Trial (NETT)
CPAP Apnea Trial North American Program (CATNAP)
Normoglycemia in Intensive Care Evaluation and Surviving Using Glucose Algorithm Regulation (NICE-SUGAR)
The Fluid and Catheter Treatment Trial (FACTT)
The Macrolides in Asthma Study
More recently, major studies testing new drugs to treat IPF, the use of statins to prevent COPD exacerbations, and high-flow oxygen therapy for respiratory failure and post-operative cardiac surgery patients have been presented at the ATS International Conference. Recent conferences have also highlighted research on e-cigarettes, from studies investigating their cellular and molecular effects to evaluating their efficacy in smoking cessation.
ATS 2016 will continue this tradition of bringing attendees the latest clinical and scientific advances, and serve as a forum for those who shape the future of medicine. New frontiers in medicine will be introduced throughout the program, including a Basic Science Core with the theme "Gene Expression: Beyond Transcription."
Our Opening Ceremony speaker will be J. Craig Venter, PhD, a biologist renowned for his contributions in sequencing a draft human genome in 2001, the first complete diploid human genome in 2007 and construction of the first synthetic bacterial cell in 2010. Dr. Venter is founder, chairman, and CEO of the J. Craig Venter Institute (JCVI), a not-for-profit, research organization with approximately 250 scientists and staff dedicated to human, microbial, plant, synthetic and environmental genomic research, and the exploration of social and ethical issues in genomics. He is also Co-Founder, CEO and Chairman of Human Longevity Inc., the genomics-based, technology driven company building the world's largest database of whole genome, phenotype and clinical data to revolutionize health care.
The conference provides an opportunity for attendees to present their own original research related to both clinical and basic science investigations. At ATS 2016, more than 5,500 scientific abstracts and case reports are expected to be presented. These presentations will foster a collaborative environment at the International Conference that crosses nationalities, clinical and research interests, and career stage and affords opportunities for both professional and scientific networking.
ATS 2016 will also provide you with the context for the many advances you'll learn about during the International Conference. Year in review sessions, major symposia, postgraduate courses, workshops, and special lectures will put in perspective the thousands of discoveries that will be presented there.
We hope you'll join us in San Francisco in May. ATS 2016 promises to be an outstanding conference.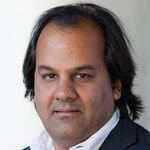 Atul Malhotra, MD
ATS President
Zea Borok, MD
Chair, ATS 2016 International Conference Committee