Welcome
---
Dear Colleagues,
We invite you to join us for the ATS 2017 International Conference, May 19‒24, in Washington, DC! This event will bring together more than 16,000 of our colleagues from around the world to learn the very latest in pulmonary, critical care, and sleep medicine.
ATS 2017 will connect you to world-renowned leaders, cutting-edge science, and groundbreaking research through more than 500 sessions led by 800 experts, and poster sessions and presentations on approximately 6,500 abstracts and case reports. Year-in-Review sessions, Major Symposia, Postgraduate Courses, Workshops, and Special Lectures will put into perspective the thousands of scientific and medical breakthroughs you'll learn about during your conference experience. Whether you're a clinician, researcher, or a trainee who is assessing your professional pathways, the insights and knowledge you'll gain at ATS 2017 will help keep you at the forefront of your field.
While the learning and training you'll receive at ATS 2017 is unmatched, the conference is also the place for respiratory medicine practitioners, scientists, and basic, translational, and clinical researchers to collaborate on solutions to shared challenges. You'll have abundant opportunity to meet and engage with colleagues from more than 90 countries, not only through learning sessions, but also through networking events, luncheons, dinners, and many more events that will take place throughout the conference!
As the leading scientific conference in respiratory medicine, many key findings and discoveries are announced first at the ATS International Conference. ATS 2017 will continue this tradition of bringing you the latest clinical and scientific advances, and will serve as a forum for those who shape the future of medicine. Here are just a few of the big announcements that were shared at the recent conference in San Francisco:
Each year, the Exhibit Hall is filled with buzz and excitement as many new products launch during the conference. At ATS 2017, you and your fellow attendees will have the opportunity to explore new technologies and services, experience hands-on demonstrations of innovative products, and chat with representatives from more than 200 organizations.
We hope you'll join us next May in Washington, DC, and look forward to welcoming you to ATS 2017 — where "today's science meets tomorrow's care!"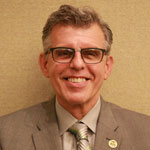 David Gozal, MD, MBA
ATS President

Zea Borok, MD
Chair, ATS 2017 International Conference Committee