Promotional Opportunities
---
Increase visibility at the ATS 2017 International Conference with exclusive marketing and promotional opportunities, maximizing visibility for your company or brand.
A complete listing of all advertising and sponsorship opportunities can be found in the ATS 2017 Rate Card.
For a virtual tour of the promotional opportunities with real time availability CLICK HERE.
Quick Links
Small Budget – Big Impact
Yes, you can "Go Big" with a small budget - Click here for details!
For questions, please contact Maureen Mauer with Ascend Integrated Media via e-mail at mmauer@ascendmedia.com or by dialing (913) 780-6633.
Digital Advertising on the ATS 2017 Online Exhibitor Directory and Interactive Floorplan Advertising
Broaden your exposure prior to the conference with a Gold or Platinum company listing on the ATS Online Exhibitor Directory. Exhibitors were viewed over 26,000 times on the Interactive Floorplan and Online Exhibitor Directory for ATS 2016. Start attracting attendee attention months before the conference by upgrading your listing. Exhibitors put a lot of attention into making their booth noticeable. Get on the attendees "must-see' list by upgrading your listing.
Exhibitors upgrading to the Platinum package were viewed

4

times more than exhibitors with a basic listing (ATS 2016)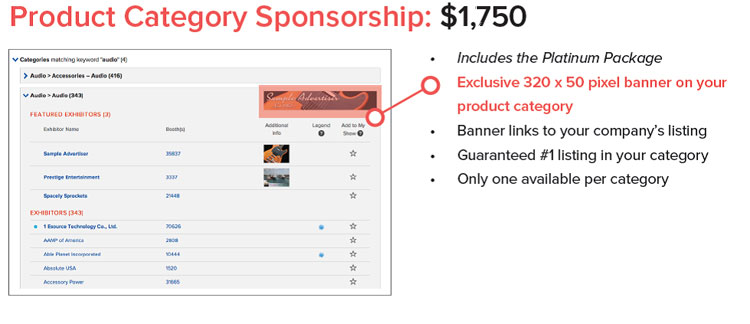 Banner Ad on the Interactive Floorplan
Exclusive Banner ad on Online Exhibitor Directory Landing page
$2,995 Early Bird (ends Nov 1)
$5,000 regular price
Includes Platinum Package
Includes one 180x150 pixel banner ad on the home screen of the Online Exhibitor Directory
The home screen is displayed on the ATS 2017 conference website
Live link directs attendees to your exhibitor profile/showcase
Statistics are available for tracking
Upload requires a 360x300 static image (jpg or png file preferred)
Digital upgrades are available during the application process when booking your booth online. If you have any questions please contact Justin Post from Map Your Show at 513-527-8953 (Monday – Friday 8:00 a.m. to 4:30 p.m. EST) or email jpost@mapyourshow.com.
See you in Washington, DC!