Become an Exhibitor
---
We invite you to participate in the ATS 2017 International Conference Exhibition in Washington DC. This is the preeminent conference on pulmonary, critical care, and sleep medicine in the United States. The ATS appreciates the significant contributions made by exhibiting and sponsoring companies. As one of the largest professionally attended pulmonary meetings in the United States and the first healthcare meeting to have an independent third-party audit of our registration data performed, our goal is to make this conference an increasingly productive and profitable experience for you.
We are committed to providing an environment that fosters discussion of your product or service to the over 12,000 pulmonary, critical care, and sleep researchers and clinicians who will attend ATS 2017. We strive to facilitate beneficial interactions between attendees and exhibitors, as well as help you achieve the greatest ROI for your company.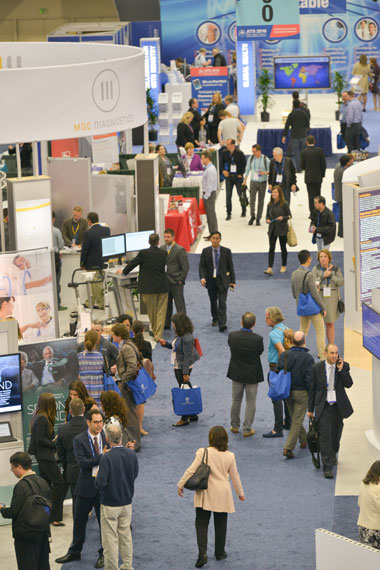 Exhibit space sales are already underway!
This is the first time the ATS International Conference is being held in our nation's capital.
Take a look at the following links to learn more about the floorplan, the available booths and who is currently exhibiting.
We look forward to seeing you in Washington DC!
Contact the ATS team today:
Stacy McManus, CEM
Director, Corporate Alliances & Exhibition Operations
212-315-8699
smcmanus@thoracic.org
Steven Strom
Exhibit Sales
661-615-3515
sstrom@thoracic.org
Shannon Payne, CEM
Assistant Manager, Corporate Alliances & Exhibition Operations
212-315-8605
spayne@thoracic.org