Julian Solway, MD
"Discerning Asthma Endotypes By Comorbidity Mapping"
---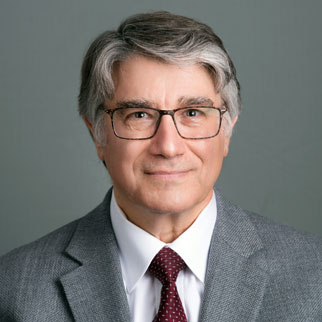 Julian Solway, MD is the Walter L. Palmer Distinguished Service Professor of Medicine and Pediatrics and Dean for Translational Medicine at the University of Chicago. He holds degrees from MIT (BSEE) and Harvard (MD cum laude, HST program), and received medicine and pulmonary subspecialty training at Brigham and Women's Hospital.
Dr. Solway has served the ATS in multiple roles, including RSF Assembly President and AJRCCM Deputy Editor. He has trained many talented colleagues through leadership on NIH T32, K12, and BEST programs, and he has led UChicago's CTSA since 2007. 
Dr. Solway's research primarily addresses asthma, especially airway smooth muscle cell biology, ASM contraction, and lung function in both animal models and humans.
Additional studies address asthma genetics and therapeutics in mechanistic and clinical studies, including development of potential novel asthma treatments like "remodilins", which might also find application in cancer or pulmonary fibrosis. Most recently, Dr. Solway has applied big data approaches to find asthma endotypes.