Patty J. Lee, MD
"Healing Breath"
---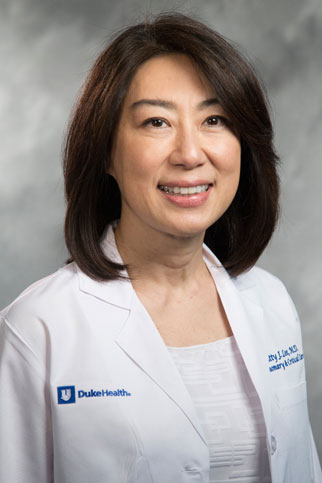 Dr. Patty Lee received her undergraduate and medical degrees from Brown University before completing internship, residency, and fellowship training at Johns Hopkins School of Medicine. After her training, she served on the faculty of Yale University from 1998-2019, where she served as Interim Chief, Section of Pulmonary, Critical Care & Sleep Medicine as well as Vice Chief of Research.
Dr. Lee's main research accomplishments were in the identification of key heat shock proteins and innate immune signaling pathways responsible for protecting against oxidant-induced lung and endothelial cell death and mitochondrial dysfunction. She pioneered lung- and endothelial-targeted gene editing in vivo using silencing RNAs, microRNAs and intranasal viruses. Her studies uncovered new paradigms of lung endothelial immune pathways required to resist injury- and age-induced lung pathologies.
In May of 2019, Dr. Lee joined the faculty of Duke University Medical Center as the Chief of Pulmonary, Allergy & Critical Care Medicine, where she is currently establishing inter-disciplinary basic, translational and clinical research groups and centers that focus on age and environmental modifiers of lung health and disease, with a specific interest in the intersections of innate immunity, vascular biology and geroscience.