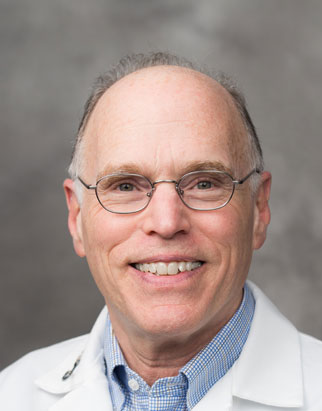 Richard H. Simon, MD
Dr. Richard Simon graduated from Duke University Medical School in 1972, then completed a two-year residency in the Department of Medicine at the University of California San Francisco.  He was a research associate in the Laboratory of Molecular Biology at the National Institute of Arthritis, Metabolic, and Digestive Diseases in Bethesda, MD 1975-77. He moved to the University of Colorado to serve as chief medical resident and then as a fellow in Pulmonary and Critical Care Medicine.
In 1981, Dr. Simon joined the Division of Pulmonary & Critical Care Medicine at the University of Michigan where he has served for 38 years.  While a pulmonary fellow in Colorado, he was asked to provide the care for what was then only a small number of adults with cystic fibrosis. This early involvement led to one of the major focuses of his career and has allowed him to contribute to the amazing progress in survival and wellbeing of patients with CF.