Richard C. Boucher, Jr., MD
"Too Much of a Good Thing: Mucus Hyperconcentration in Bronchitis and Bronchiectasis"
---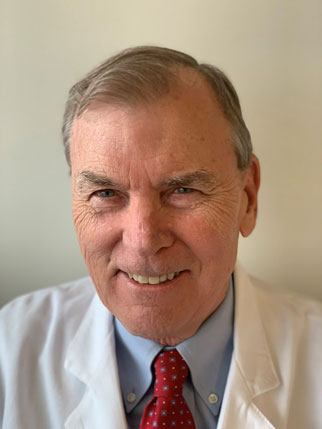 Dr. Richard Boucher grew up in Merced, California. He attended Yale University for his undergraduate education and Columbia College of Physicians and Surgeons for medical school. Following a two-year internship/residency at Columbia Presbyterian Hospital, he joined the India Health Service and was a family medicine physician in Eagle Butte, South Dakota, and San Ildefonso, New Mexico.
Dr. Boucher performed his respiratory training at McGill University, notably under the tutelage of Dr. James Hogg in the Meakins-Christie Laboratories. After three years of training in Montreal, he joined the faculty of the Adult Pulmonary Medicine Division at The University of North Carolina School of Medicine in Chapel Hill, North Carolina. He has remained there for 43 years, studying the pathogenesis of cystic fibrosis and, more recently, the broad spectrum of muco-obstructive lung diseases.
He is presently Director of the Marsico Lung Institute.