Meet the Expert and Medical Education Seminars are informal one-hour morning and mid-day small group seminars that offer a platform for direct interaction with recognized leaders in specific fields. Join expert researchers, clinicians, technology or procedural expert speakers, and emerging independent academics covering various topics. Most sessions will start with a 20–30-minute presentation followed by a discussion with the speaker(s). Sessions fill up quickly and registration is limited!
$100 Member/Non-Member
$70 LMIC Member/LMIC Non-Member
Light refreshments will be served. Please click the DETAIL buttons below to learn more about each course.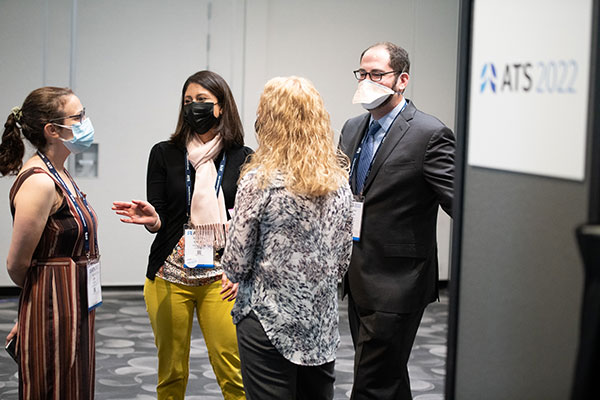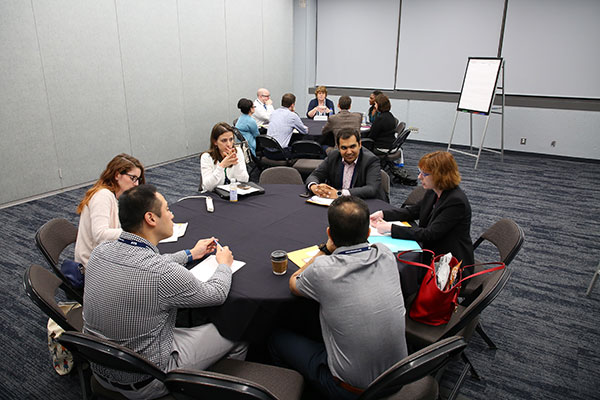 MEET THE EXPERT AND MEDICAL EDUCATION SEMINARS

Sunday, May 21

ME101 Building Blocks to Crafting a Successful Clinician-Educator Career
10:15 - 11:15 a.m.

×

ME101 Building Blocks to Crafting a Successful Clinician-Educator Career

Session Description: During this interactive session, participants will have the opportunity to hear from successful, nationally recognized clinician educators in pulmonary & critical care medicine regarding career advancement as clinician educators. Topics will include developing an educational portfolio, fostering successful mentoring relationships, scholarly productivity, leadership, and networking locally, regionally and nationally through organizations such as the ATS. Discussants will provide attendees with practical tips and focused suggestions as well as ample opportunity for discussion and questions regarding how to best achieve success in each of the content domains being presented.

Target Audience: Trainees, junior and mid career faculty pursuing careers as clinician educators, although all clinician educators are likely to benefit from this session

Learning Objectives:

understand how to create an educational portfolio and identify mentors early in ones career
describe opportunities for production of scholarly work as a clinician educator
identify opportunities for leadership in medical education locally, regionally and nationally

MTE1 Emerging Presentations of Illicit or Synthetic Drugs Toxicity
10:15 - 11:15 a.m.

×

MTE1 Emerging Presentations of Illicit or Synthetic Drugs Toxicity

Session Description: Respiratory compromise and pulmonary infiltrates are a common causes of hospital and ICU admission in patients taking or ingesting illicit and/or synthetic drugs including opioids, toxins, poisons, as well as warfare agents including neural toxins (e.g. The Novichoks). This session will include discussion of toxidrome recognition, diagnosis, management and protection of the health of medical and law enforcement personnel. At present, there are greater than 500 drugs with associated pulmonary reactions. We discuss the widening causes of lung impairment by focusing on illicit and synthetic agents that cause lung injury. This session will focus on early rapid recognition, appropriate diagnosis and management.

Target Audience: Practicing pulmonary and critical care physicians, trainees, and nurse practitioners interested in illicit and/or synthetic drugs including opioids, toxins, poisons, and warfare agents including nerve agents

Learning Objectives:

attendees will be better able to differentiate and diagnose lung disease related to illicit and synthetic agents and warfare agents
be able to apply imaging modalities, lab testing and bronchoscopy to rapidly differentiate competing diagnoses
be able to improve the quality of health status of patients by rapidly recognizing and treat induced lung disease and removing offending medications

MTE2 Is Obstructive Sleep Apnea Effecting My Brain; Lessons from Bench to Bedside
10:15 - 11:15 a.m.

×

MTE2 Is Obstructive Sleep Apnea Effecting My Brain; Lessons from Bench to Bedside

Session Description: Obstructive sleep apnea (OSA) is highly prevalent in patients with Alzheimer's disease (AD) and mild cognitive impairment (MCI). There is emerging evidence that OSA is risk-factor for preclinical AD. There is some data that treatment with continuous positive airway pressure (CPAP) may improve cognition. Thus OSA is a modifiable risk factor for dementia. A recent ATS workshop titled, "The link between obstructive sleep apnea and neurocognitive impairment", Lal C et al, outlined the extent of the problem and future directions for research. This session will highlight key findings from the workshop, while also providing the learners with practical guidance for patient management.

Target Audience: Physicians, basic scientists, epidemiologists, fellows in training with an interest in sleep medicine

Learning Objectives:

describe new findings about the association between OSA and dementia
better recognition and diagnosis of Mild Cognitive Impairment in OSA
improve the quality of life of patients by earlier diagnosis and treatment of OSA, as a modifiable risk factor for dementia

MTE3 Cystic Fibrosis in the ICU: BPH, Bacteria, and Beyond
10:15 - 11:15 a.m.

×

MTE3 Cystic Fibrosis in the ICU: BPH, Bacteria, and Beyond

Session Description: Cystic fibrosis is a complex disease with significant morbidity and mortality. These patients frequently require critical care due to advanced lung disease, hemoptysis, pneumothorax, diabetic ketoacidosis, and other complications. This session will utilize case examples to discuss specific considerations in the ICU management of patients with cystic fibrosis.

Target Audience: All physicians caring for patients in the ICU

Learning Objectives:

list dangerous complications of cystic fibrosis
discuss considerations in treatment of acute on chronic respiratory failure in cystic fibrosis
formulate a treatment plan for acute hemoptysis in patients with cystic fibrosis

MTE4 Caring for Children Who Receive Hematopoietic Stem Cell Transplantation for Non-Malignant Indications
10:15 - 11:15 a.m.

×

MTE4 Caring for Children Who Receive Hematopoietic Stem Cell Transplantation for Non-Malignant Indications

Session Description: This session will review non-malignant conditions treated with hematopoietic stem cell transplantation (HSCT), pre-transplant considerations stemming from respiratory complications arising from those underlying conditions, and post-transplant course, including unique complications and prognosis of respiratory complications present prior to transplant.

Target Audience: Pediatric pulmonologists who care for children who receive hematopoietic stem cell transplantation (HSCT). Adult pulmonologist who are caring for young adults who had received HSCT during childhood.

Learning Objectives:

better counsel patients and transplant physicians about prognosis of lung disease based on underlying conditions and pre-transplant respiratory complications
devise collaboratively with patients and transplant physicians plans for pre-transplant evaluation and management of respiratory complications to optimize outcomes of hematopoietic stem cell transplantation
devise individualized plans to follow respiratory health of patients who underwent hematopoietic stem cell transplantation for non-malignant conditions

MTE5 Lung Nodule: How Can We Increase the Biopsy Diagnostic Yield
10:15 - 11:15 a.m.

×

MTE5 Lung Nodule: How Can We Increase the Biopsy Diagnostic Yield

Session Description: The session will include review of all options to obtain biopsy from lung nodules. There will be review for recent technologies including robotic bronchoscopy. The yield of these procedures will be discussed and what operator can do to increase this yield. The airway anatomy will be reviewed and how to build plan in addition to the plan was made by the software. How to combined both plans to reach the highest yield possible.

Target Audience: Physicians, fellows, residents

Learning Objectives:

know the anatomy of the airway and how to build your own 3D bronchial tree
learn how to combine your own plan with software plan to achieve higher diagnostic yield of your biopsies
engage other technologies such as con Beam Ct to confirm your biopsy locations

MTE6 Qualitative Research for the Quantitative Scientist: Incorporating Qualitative Methods Into Scholarship and Clinical Practice
10:15 - 11:15 a.m.

×

MTE6 Qualitative Research for the Quantitative Scientist: Incorporating Qualitative Methods Into Scholarship and Clinical Practice

Session Description: Qualitative research methods are key tools in generating new insight into patient and provider experiences, successful program implementation, and areas for future research. Qualitative methods literacy is thus important for trainees, clinicians, and investigators. The goals of this meet the expert session are to introduce the benefits of qualitative methods in designing more effective RCT interventions, provide guidance on incorporating qualitative aims into highly fundable research proposals, and provide guidance on evaluating rigor and impact in qualitative manuscripts and research proposals. This session will include substantial time for Q&A with the experts.

Target Audience: Trainees, early career, and established researchers looking to build expertise evaluating and incorporating qualitative methods into their work and research.

Learning Objectives:

leverage qualitative methods to inform and enhance randomized control trials, including assessing feasibility of study design as well as assessing study and intervention effectiveness
successfully incorporate qualitative method aims into research proposals, including designing fundable qualitative research aims, combining qualitative and quantitative research into mixed methods studies
evaluate methodological rigor and impact of qualitative manuscripts and proposals, noting how goals differ from quantitative methods (i.e., generalizability vs. conceptualization, etc.) and key concepts for rigor in design and analysis

MTE7 Interstitial Lung Disease in ANCA Vasculitis
12 - 1 p.m.

×

MTE7 Interstitial Lung Disease in ANCA Vasculitis

Session Description: Acute presentations of diffuse alveolar hemorrhage and respiratory failure have been well known in ANCA vasculitis. However, there have been recent updates in the literature regarding interstitial lung disease, especially MPO antibody positivity associated with interstitial lung disease and also in bronchiectasis. This session will use case presentations to illustrate examples where ANCA antibodies may need to be investigated and interstitial lung disease and appropriate evaluation and management of these patients. Session will also cover evaluation and long-term management of pulmonary issues in patients with ANCA vasculitis and issues to consider in care of interstitial lung disease and bronchiectasis in these patients in coordination with rheumatologists.

Target Audience: Community pulmonologists, general pulmonologists, fellows in training, rheumatologists

Learning Objectives:

describe current literature on clinical, radiologic and pathologic characteristics of those with ILD in ANCA vasculitis
describe prognostic features and outcomes and strategies for management of patients with ANCA vasculitis ILD
illustrate with examples, management of pts with ANCA vasculitis who have chronic lung disease

MTE8 Mitigating Disparities in the Lung Cancer Screening Pipeline
12 - 1 p.m.

×

MTE8 Mitigating Disparities in the Lung Cancer Screening Pipeline

Session Description: This session will discuss health disparities in lung cancer screening across the continuum, including examining new eligibility criteria with low-dose computed topography (LDCT), alternative approaches to screening including use of risk assessment models, barriers to screening and uptake of lung cancer screening programs, racial disparities in potentially curative surgery for early disease, as well as post-screening follow-up and behavior modification. We intend to go beyond merely discussing these disparities, but share methods to mitigate such disparities.

Target Audience: Physicians, physician scientists, nurses, and those involved in lung cancer screening eligibility, utilization, and follow-up with a focus on lung cancer disparities

Learning Objectives:

identify gaps in lung cancer screening with LDCT, learn alternative screening approaches based on individual risks, incorporating smoking intensity, environmental exposures, COPD, and socioeconomic factors that may create barriers to screening
identify barriers to accessing lung cancer screening among underserved communities of color and apply intervention strategies to improve lung cancer screening uptake among high-risk individuals disproportionately affected by lung cancer
define racial disparities in post-screening care and behavior, including stage-specific treatment and tobacco cessation. Implementation strategies will be shared such that attendees will learn new strategies to integrate into their clinical practice

MTE9 Outpatient Management of the Chronically Ventilated Child
12 - 1 p.m.

×

MTE9 Outpatient Management of the Chronically Ventilated Child

Session Description: Technology-dependent children requiring invasive chronic ventilation are high health care resource utilizers. These resources have become more and more scarce with the COVID19 pandemic and even as hospitalizations wane, resources continue to be in an increasingly limited supply. Many providers are struggling with what compromises can be made to allow this patient population to live at home safely. This meet the expert will serve as a discussion of the high-impact needs of this patient population and further resource management. It will also discuss outpatient management challenges.

Target Audience: Pediatric Pulmonologists, Nurses, Respiratory Therapists, Care Coordinators

Learning Objectives:

improve the quality of life and health of children that are invasively chronically ventilated at home by helping to reduce hospital length of stay and readmission rates
define new strategies to manage the care of children who require chronic ventilation
apply ATS guidelines in the care of this patient population

MTE10 Engaging Patient, Community, and Policy Partners to Bring Evidence Into Clinical Practice
12 - 1 p.m.

×

MTE10 Engaging Patient, Community, and Policy Partners to Bring Evidence Into Clinical Practice

Session Description: This session will have 2 speakers that will describe the use of partnerships and stakeholder engagement at multiple levels (patient, family, provider, practice, community organization, payor, policy maker, and legislator). These strategies are based in implementation science and begin with formulating study design all the way to implementation of evidence to improve clinical outcomes. We will describe case examples from our research, of partnering with patients, community-members, and decision makers (policy and payors) to implement school-supervised asthma management and inform policy changes for stock albuterol inhalers availability in schools across the nation.

Target Audience: Clinicians, researchers and trainees interested in using stakeholder engagement for improved a) representation of diverse populations in research b) implementation of evidence-based interventions c) patient adherence to clinical guidelines

Learning Objectives:

understand the rationale for a CBPR approach in clinical research and clinical care
identify the core principles of CBPR in developing, maintaining and evaluating community-academic research partnerships
explain and experience the process and challenges of forming and maintaining stakeholder partnerships with communities

MTE11 Small Airways Disease: When It's Not Asthma
12 - 1 p.m.

×

MTE11 Small Airways Disease: When It's Not Asthma

Session Description: Airflow obstruction is a common abnormality on spirometry. Although asthma and COPD account for the majority of obstructive disorders, important mimics like bronchiolitis can lead to misdiagnosis and delay treatment with progressive respiratory decline. Early recognition of culprit drugs and exposures, as well as systemic disease amenable to immunosuppression, are among potential interventions. The objectives of this session are to present clinical tools to recognize bronchiolar disorders as the predominant or contributing pathology, identify the likely etiology through clinic-radiologic correlation, and appreciate the histopathologic pattern of bronchiolar disorders and the appropriate clinical context to obtain histopathology.

Target Audience: Pulmonologists, radiologists, thoracic surgeons, pathologists

Learning Objectives:

identify conditions associated with small airways disease, including infectious, autoimmune, and exposure-related etiologies and distinct radiologic patterns for common bronchiolitis syndromes
understand the clinical significance of histopathologic patterns and how to choose between various biopsy strategies in small airways diseases
synthesize elements of the diagnostic workup into a comprehensive approach to the patient with undifferentiated small airways disease, incorporating history, serologies, chest imaging, and histopathology

MTE13 Media & Me: How to Communicate Science and Health Through Different Media Sources
12 - 1 p.m.

×

MTE13 Media & Me: How to Communicate Science and Health Through Different Media Sources

Session Description: A highly interactive meet the expert session featuring pediatric and adult pulmonologist specialists with extensive expertise in digital and live media experiences.

Target Audience: Providers of lung health, scientists, trainees

Learning Objectives:

apply practical techniques to digital and live media engagement
better counsel patients and caregivers on health and science findings
identify pitfalls to digital media communication

MTE14 Personalizing Selection of Inhaler Delivery Systems in COPD
12 - 1 p.m.

×

MTE14 Personalizing Selection of Inhaler Delivery Systems in COPD

Session Description: To prescribe pharmacotherapy for patients with COPD, the health care professional has three decisions: short vs long-acting; beta-agonist, muscarinic antagonist, and/or ICS; and the delivery system. Unfortunately, there is little information provided by professiional organizations on inhaler selection. This session will provide guidance in selecting the most appropriate inhaler delivery system based on individual patient characteristics in those with COPD (i.e., precision medicine).

Target Audience: All health care professionals who evaluate and treat patients with chronic obstructive pulmonary disease.

Learning Objectives:

describe unique features of the four inhaled delivery systems. For pMDI and SMI, velocity and duration of aerosol delivery; for DPI, breath acctuation and internal resistance; for nebulizer, preparation and instructions for correct use
better counsel patients on correct inspiratory flows and corresponding inhalation instructions to achieve optimal delivery of the medication into the lower respiratory tract and impact outcomes
consider the role of published algorithms to assist in selection of the most appropriate delivery system based on device features, HCP factors, and patient features

MTE15 Cystic Fibrosis Pulmonary Exacerbations: Basics for the General Pulmonologist
12 - 1 p.m.

×

MTE15 Cystic Fibrosis Pulmonary Exacerbations: Basics for the General Pulmonologist

Session Description: Pulmonary exacerbations are common in patients with cystic fibrosis and require specific treatments that differ from typical treatment of pneumonia. This session will discuss an overview of management of pulmonary exacerbations of cystic fibrosis with an emphasis on antibiotic selection and duration, laboratory and lung function monitoring, and management of comorbidities while hospitalized.

Target Audience: All pulmonologists

Learning Objectives:

determine an appropriate individualized antibiotic regimen for a patient based on their microbiologic history
discuss management of common non-pulmonary manifestations of cystic fibrosis during pulmonary exacerbations
select appropriate laboratory monitoring and when to obtain imaging and pulmonary function tests during a pulmonary exacerbation of cystic fibrosis

Monday, May 22

ME102 Discussing and Teaching About Healthcare Disparities
10:15 - 11:15 a.m.

×

ME102 Discussing and Teaching About Healthcare Disparities

Session Description: Many medical educators want to teach about health disparities, race, and racism but often find it difficult due to either a lack of familiarity with the subject or a lack of strategy for how to address these issues after raising them. In this workshop, we seek to allay some of the fears and empower attendees to feel comfortable discussing and teaching about health disparities, race, and racism. We will provide an overview of important terminology used in the field of healthcare disparities and strategies to encourage and stimulate discussions among medical teams with learners in different clinical environments.

Target Audience: Clinicians and providers interested in learning more about health care disparities in pulmonary medicine and how to discuss and teach this topic to learners in different clinical environments

Learning Objectives:

more comfortable incorporating discussions about health disparities, race, and racism into their teaching
define key terms for discussions about health disparities, such as equality and equity, social determinants of health, disparity, and race
define effective ways to create a successful support group (virtual, live, or hybrid models) by referrals, facilitation, communication with HCPs, agenda, guidelines, surveys, research recruitment, promotion, budget, frequency, and topics

MTE16 It Takes a Village: Integrating ILD Support Groups Into Community Medical Centers
10:15 - 11:15 a.m.

×

MTE16 It Takes a Village: Integrating ILD Support Groups Into Community Medical Centers

Session Description: The purpose of this session is two-fold: 1) to demonstrate the value of connecting patients and care partners to an ILD support group, a supportive care intervention, to help navigate this serious lung disease, and 2)how to integrate an ILD support group into community medical centers.

Target Audience: Clinicians- advanced, fellow and trainees, nurses- allied Health, psychologists, patient support group, any lung ATS member with an interest in patient-centered care

Learning Objectives:

apply knowledge and improve community medical centers' understanding of the need and importance of ILD support groups for their patient and care partner population
improve quality of life/health status of patient and care partner and increase communication with providers for supportive care and resources resulting in a provider referral, upon initial diagnosis, to an ILD support group and resources
define effective ways to create a successful support group (virtual, live, or hybrid models) by referrals, facilitation, communication with HCPs, agenda, guidelines, surveys, research recruitment, promotion, budget, frequency, and topics

MTE17 Severe Childhood Asthma: When to Use Biologics and What to Do if They Fail
10:15 - 11:15 a.m.

×

MTE17 Severe Childhood Asthma: When to Use Biologics and What to Do if They Fail

Session Description: Through an interactive, case-based approach, we will discuss the indications, targeted immune pathways, and expected benefits of biologics for the management of severe childhood asthma, as well as the available evidence on other alternative controller medications used in children with severe asthma who fail to respond to one or more biologics. By the end of this session, participants will be able to select, based on the clinical phenotype and available evidence, the best therapeutic agent to manage severe asthma in children.

Target Audience: Pediatric pulmonologists, pediatric allergists, fellows in training, advanced health care providers, and nurses who care for children with severe asthma

Learning Objectives:

learn the indications and expected benefits of biologics approved for severe childhood asthma, as well as the criteria to declare a failed response to these medications
apply the steps that should be taken to evaluate and phenotype a child's severe asthma after he/she fails to respond to a biologic
understand the mechanisms of action, current indications, and available evidence for drug efficacy of alternative controller medications used for severe childhood asthma

MTE18 Biologics and Beyond: Understanding and Managing Severe Asthma
10:15 - 11:15 a.m.

×

MTE18 Biologics and Beyond: Understanding and Managing Severe Asthma

Session Description: This session highlights the importance of personalized medicine for asthma by providing a practical approach to understanding and managing severe asthma based on endophenotypic differences. The learner will gain insight into the underlying mechanisms of asthma and how targeted therapy, including biologics and bronchial thermoplasty, can be appropriately utilized. The session format will be clinical case presentation with differential diagnosis, discussion of the most updated literature and application to each specific case.

Target Audience: All providers of lung health including trainees. Individuals with a clinical or research focus on the evaluation and management of severe asthma should find the session of particular interest.

Learning Objectives:

describe new findings about evaluating severe asthma based on phenotypic differences
define new strategies to manage the care of the severe asthmatic based on phenotypic differences
integrate new guidelines on managing severe asthma based on phenotypic differences into current practice

MTE19 Decentralized Clinical Trials in Interstitial Lung Disease
10:15 - 11:15 a.m.

×

MTE19 Decentralized Clinical Trials in Interstitial Lung Disease

Session Description: Traditional clinical trial design has numerous shortcomings, especially in the study of rare diseases such as interstitial lung disease (ILD). By utilizing a decentralized trial design, issues of patient equity, recruitment timelines, and outsized cost can be improved. This session will discuss the recent progress/successes in decentralized clinical trials and highlight their potential for success in ILD using a real-world example. By providing a framework for this strategy, we seek to inspire providers to alter their referral patterns and to consider this methodology for their own clinical questions.

Target Audience: Clinical researchersInterstitial lung disease clinical providers

Learning Objectives:

more appropriately refer interstitial lung disease patients to decentralized clinical trials
apply new knowledge competence of decentralized clinical trials to improve health equity and quality of life/health of their patients by informing patients of the potential for enrollment in decentralized studies
describe new findings about decentralized clinical trials and use this knowledge to potentially address their own clinical questions

MTE20 Dyspnea During Mechanical Ventilation
10:15 - 11:15 a.m.

×

MTE20 Dyspnea During Mechanical Ventilation

Session Description: The pathophysiology of dyspnea is complex and incorporates inputs from chemoreceptors, lung and chest wall receptors, and a balance between the desired and actual output of the respiratory system. Ventilator dys-synchrony and post ventilator mental health problems, occurring in up to 25-30% of patients with respiratory failure, may be due to dyspnea. This session will review the physiological mechanisms underlying dyspnea and link them to ventilator strategies commonly used in the ICU. The discussion will address approaches employed in these patients to minimize dyspnea and possible behavioral sequelae. Attention will also be provided to how to teach these concepts.

Target Audience: Clinicians (doctors and nurses), trainees, and researchers interested in dyspnea.

Learning Objectives:

describe the physiological mechanisms that lead to dyspnea
explain how ventilator settings, including tidal volume and inspiratory flow, can produce breathing discomfort
outline ventilator and pharmacological strategies that can be applied to minimize dyspnea

MTE21 New Approaches for Non-Invasive Access to the Lung
10:15 - 11:15 a.m.

×

MTE21 New Approaches for Non-Invasive Access to the Lung

Session Description: Most medical research is focused on clinically apparent disease, where invasively collected tissue samples traditionally reveal the blatant disease phenotype. However, detecting the earliest steps in disease pathogenesis necessitates accessing healthy or preclinical human subjects non-invasively. Common disorders such as lung cancer, asthma, COPD, and other predominantly airway side disorders offer the possibility of non-invasive airway access. Here we review recent provocative demonstrations of exhaled breath, cough, sputum, and other lung surrogates, interrogated at the 'omics and candidate analyte levels. We will imagine early lung pathogenesis detection, which can yield enhanced strategies for risk assessment, and disease pre-emption.

Target Audience: Population-level researchers, epidemiologists, and forward thinking clinicians, along with their lab-based collaborators.

Learning Objectives:

apply advances in non-invasive airway biospecimen capture to earlier diagnosis of evolving lung diseases, such as asthma, COPD, lung cancer, and others
apply advances in omics-level analysis to facilitate earlier diagnosis of evolving lung diseases, such as asthma, COPD, lung cancer, and others
perform population surveillance for pre-clinical detection of environment-triggered perturbations of human physiology, from allergens, air pollutants, occupational expsures, global warming, and other global scourges

MTE22 Communicating Science to the Press
12 - 1 p.m.

×

MTE22 Communicating Science to the Press

Session Description: Science communication has gained popularity in the research community over the past few years. Recent reports indicate that most scientists consider visibility in the media/press important and responding to journalists a professional duty. This interactive session will feature two ATS members who have been interviewed by journalists about climate change and other environmental health topics. Dr. Gupta is a contributor to national and international media outlets on current health issues. Dr. Silveyra has been interviewed on TV and radio stations about environmental health in English and Spanish. Speakers will share advice on how to prepare for an interview, manage body language, and interact with journalists. Attendees will participate in a mock interview to apply the concepts learned and receive feedback.

Target Audience: Researchers, providers, students, trainees

Learning Objectives:

identify effective strategies to communicate with journalists and news outlets
acquire new skills to communicate science in an effective and engaging way while maintaining scientific integrity
incorporate strategies to improve communication skills if bilingual, and avoid common pitfalls

MTE23 Bronchiectasis: Case-Based Update on Guidelines and New Treatment Options
12 - 1 p.m.

×

MTE23 Bronchiectasis: Case-Based Update on Guidelines and New Treatment Options

Session Description: This session will provide an update on guidelines for diagnosis and treatment of bronchiectasis, using a case-based approach. Evolving treatment options, including HNE inhibitor therapy, will also be covered.

Target Audience: Physicians, fellows, advanced practice providers, nurses, respiratory care practitioners

Learning Objectives:

better diagnose bronchiectasis and underlying etiologies
define new strategies to manage the care of bronchiectasis patients, including use of inhaled antibiotics and anti-inflammatory agents

MTE24 Local Therapeutics Approaches in Malignant Pleural Mesothelioma: Rationale, Clinical Development and Future Strategies
12 - 1 p.m.

×

MTE24 Local Therapeutics Approaches in Malignant Pleural Mesothelioma: Rationale, Clinical Development and Future Strategies

Session Description: This session will analyse the biologic and clinic rationale for development of local therapeutic platforms against MPM. The strategies encompass: cell therapy, nanotools, novel chemical compounds and matrices. A deeper understanding of the biologic features of the disease is a key issue for its proper local management. Main interest will be addressed to the analysis of the local tumor microenvironment and on how its specific characteristics could be exploited for the design of novel biocompatible agents. The discussion will offer potential cues regarding the management of malignant pleural effusion from other solid primaries.

Target Audience: Clinicians, thoracic surgeons, radiologists, pathologists, biomedical engineers, biochemists and pharmacologists, biologists, and translational researchers

Learning Objectives:

describe new findings about novel therapeutic strategies for local management of MPM
define new strategies to manage the care of patients with malignat pleural effusions
improve the quality of life of MPM patients

MTE25 Misinformation and Disinformation on COVID-19: How to Improve Disparities and Inequities?
12 - 1 p.m.

×

MTE25 Misinformation and Disinformation on COVID-19: How to Improve Disparities and Inequities?

Session Description: This session will integrate the current state of the art knowledge on how discovering novel treatment options could affect COVID-19 diagnosis, treatment, and outcomes. The speaker is an expert in the field of COVID-19 and translational research. He has published more than 35 papers on COVID-19.

Target Audience: Clinicians and health care personnel and trainees who are seeking an update on the management of COVID-19

Learning Objectives:

define currently circulating SARS-CoV2 variants and the ability to apply this knowledge in decision making
choose correct antiviral medication, and monoclonal antibodies in patients with sarcoidosis and acute COVID-19 infection
define measures to improve treatment outcomes via evidence-based medicine

MTE26 How to Assess the Outcome of a Pulmonary Rehabilitation Programme?
12 - 1 p.m.

×

MTE26 How to Assess the Outcome of a Pulmonary Rehabilitation Programme?

Session Description: The benefits of pulmonary rehabilitation (PR) for patients with chronic respiratory diseases are well-recognized. Improvements in health status, exercise capacity, performance of problematic activities of daily living and body composition have been consistently reported. However, not all patients benefit to the same extent and/or in all of these domains. This heterogeneity in observed treatment response may be related to patient characteristics, interventions provided, rehabilitation setting or to methodology of outcome assessment. Prof. dr. Martijn Spruit will discuss the optimal way to assess the effects of PR in individual patients, both from scientific as well as practical perspective.

Target Audience: Respiratory physicians, physiotherapists, respiratory therapists, respiratory nurses, health care payers, policy makers, rehabilitation physicians, clinical scientists

Learning Objectives:

design, implement and evaluate an outcome assessment for pulmonary rehabilitation
describe the multidimensional outcomes of pulmonary rehabilitation and appreciate that 1 outcome does not provide a comprehensive overview
understand what is needed in order to improve the outcomes of pulmonary rehabilitation for patients with poor response

MTE27 Smart Therapy and Allergic Immunotherapy in New Asthma Guidelines: Pros and Cons
12 - 1 p.m.

×

MTE27 Smart Therapy and Allergic Immunotherapy in New Asthma Guidelines: Pros and Cons

Session Description: New asthma guidelines (EPR-4) have recommended many changes including SMART therapy and role of allergen immunotherapy in asthma care. The use of a combination inhaler containing budesonide and formoterol as both maintenance and quick relief therapy (SMART) has been recommended as an improved method of using inhaled corticosteroid/long-acting ß agonist (ICS/LABA) therapy as studies have shown better asthma outcomes than budesonide monotherapy or lower doses of budesonide/formoterol therapy delivered in constant dosage. Guidelines have also suggested role of allergy immunotherapy in selected patients to improve asthma control. This session will discuss pros and cons of these recommendations including practical issues in implementing these guidelines

Target Audience: Clinicians, educators, physicians-in-training, general medicine physicians, physician assistant, pulmonary physicians, pediatricians, pediatric pulmonologists, allergist and immunologists, registered nurses, respiratory therapists

Learning Objectives:

describe why guidelines are recommending SMART therapy to be preferred option for moderate-severe asthma
describe why guidelines are recommending Allergen Immunotherapy for selected patients with moderate-severe asthma
describe problems and practical limitations in following asthma guidelines on use of SMART therapy and allergen immunotherapy

MTE28 Progress in Progressive Pulmonary Fibrosis: An Update in Definition and Management
12 - 1 p.m.

×

MTE28 Progress in Progressive Pulmonary Fibrosis: An Update in Definition and Management

Session Description: While the prognosis of non-idiopathic pulmonary fibrosis (IPF) interstitial lung disease (ILD) is notoriously variable, a subset of patients develops progressive fibrosis, lung function decline, and early mortality. This clinical phenotype was most commonly known as progressive fibrosing ILD (PF-ILD). More recently, the ATS released clinical practice guidelines calling this high-risk entity progressive pulmonary fibrosis (PPF). This session will review common criteria for disease progression in non-IPF ILD. Using case-based discussion, this session aims to address real-world clinical dilemmas in diagnosing and managing PPF.

Target Audience: Clinicians and researchers

Learning Objectives:

understand the clinical phenotype of progressive pulmonary fibrosis
describe the various criteria of progressive fibrosing ILD (PF-ILD) included in clinical trials and how they differ from the consensus guidelines defining progressive pulmonary fibrosis (PPF)
integrate and incorporate PPF guidelines into current practice and treatment decision-making

MTE29 Beyond the Lung: Taking a Multi-Disciplinary Approach to Sarcoidosis
12 - 1 p.m.

×

MTE29 Beyond the Lung: Taking a Multi-Disciplinary Approach to Sarcoidosis

Session Description: This session will demonstrate a multidisciplinary approach to care within sarcoidosis. The experts will present three cases with pulmonary, cardiac, and/or neurologic manifestations of sarcoidosis. One case will focus on diagnosis and review the recent guidelines on diagnosis. One case will focus on diagnostic work up and approach to evaluating for additional organ involvement in sarcoidosis. One case will focus on treatment and management approaches in sarcoidosis.

Target Audience: Individuals providing clinical care to patients with sarcoidosis

Learning Objectives:

incorporate the ATS Guidelines for diagnosis of sarcoidosis into current practice
review the diagnostic approach for extra-pulmonary sarcoidosis
define management approaches in sarcoidosis.

MTE30 Obesity Hypoventilation Syndrome: Clinical Approach
12 - 1 p.m.

×

MTE30 Obesity Hypoventilation Syndrome: Clinical Approach

Session Description: A case based discussion on timely diagnosis and treatment of Obesity Hypoventilation Syndrome with expert clinicians, Dr. Bernie Sunwoo and Dr. Christine Won.

Target Audience: Clinicians caring for patients with Obesity Hypoventilation Syndrome.

Learning Objectives:

define OHS and methods to identify it
understand the current state of the art treatment of OHS
consider the role of potential medications to facilitate weight loss in OHS

Tuesday, May 23

ME103 Game On!: Gamification of Medical Education in PCCM
10:15 - 11:!5 a.m.

×

ME103 Game On!: Gamification of Medical Education in PCCM

Session Description: Technology is increasingly being used in medical education to supplement the delivery of learning resources. Gamification is defined as the use of game design elements in non-game contexts. Studies have shown that gamification may improve learning outcomes in health professionals, especially when employing game attributes that improve learning behaviors and attitudes towards learning. Our session will present the evidence behind the use of gamification in medical education for learners in Pulmonary and Critical Care Medicine. We will illustrate strategies for gamifying traditional didactic approaches to learning by using gamification methods within our session. Lastly, we will explore challenges behind the implementation of gamification as well as the strategies to overcome them.

Target Audience: Clinician educators with experience or interest in medical education for all levels of learners. Although this session will cover the utility of gamification in education, no prerequisites are required.

Learning Objectives:

review the available literature for the benefits of using gamified training platforms for medical education (both preclinical and clinical) and training
identify available platforms suitable for the purpose of gamification with links to multimedia content
outline the challenges in the implementation of gamification and the strategies available to counteract them

MTE31 Detection of Alpha-1 Antitrypsin Deficiency - An Underrecognized Population
10:15 - 11:!5 a.m.

×

MTE31 Detection of Alpha-1 Antitrypsin Deficiency - An Underrecognized Population

Session Description: Alpha-1 antitrypsin deficiency (AATD) is an under-recognized genetic condition, which carries an increased risk of emphysema and liver cirrhosis. AATD has an estimated prevalence in the general population of 1 in 5,000 individuals in the United States; however, very few have been identified. In this lecture, we explore the epidemiology of AATD, current testing recommendations, impact of diagnostic delay, benefits of testing to the testing, barriers to testing, and modalities to increase detection.

Target Audience: Providers of subjects with obstructive lung disease, bronchiectasis, or liver disease; those with clinical responsibilities

Learning Objectives:

more appropriately refer subjects for AATD testing according to ATS/ERS guidelines
integrate/incorporate evidence based case detection methods to improve identification of subjects with heterozygous or homozygous AATD
improve testing adherence and improve quality of life and health status by decreasing diagnostic delay

MTE32 Management of Immune Mediated Myositis RElated Lung Disease in 2023
10:15 - 11:!5 a.m.

×

MTE32 Management of Immune Mediated Myositis RElated Lung Disease in 2023

Session Description: Pulmonary manifestations of immune mediated myositis are common and often severe. Treatment strategies vary widely according to clinical situation. Factors to consider include severity, whether the patient is having an acute exacerbation or the presence of fibrotic disease and co morbidities. This session will discuss the management options available through various stages of severity in patients with myositis related lung disease.

Target Audience: Providers of lung health; rheumatologists, pulmonary and critical care fellows.

Learning Objectives:

learn essentials of medical management and monitoring IIM-ILD patients at various stages of disease severity
apply new therapeutic options in management of IIM-ILD patients at various stages of disease severity
learn about evaluation and management of common extrapulmonary manifestations of IIM

MTE33 Lung Molecular Atlas Program Human Tissue Core (LUNGMAP HTC)
10:15 - 11:!5 a.m.

×

MTE33 Lung Molecular Atlas Program Human Tissue Core (LUNGMAP HTC)

Session Description: This session will introduce the attendees to the Lung Molecular Atlas Program (LungMAP) Biorepository, its contents and methods for access. The session will also introduce and encourage discussion around collaborative efforts ongoing to standardize lung cell nomenclature, ontologies and related knowledge accessibility including the LungMAP Cell Cards and the Human BioMolecular Atlas Program Anatomical Structures, Cell Types and Biomarkers resource.

Target Audience: Investigators, students and faculty, interested in human lung biology, access to human lung tissue, cell nomenclature and data repositories.

Learning Objectives:

provide an understanding of the content of the LungMAP BRINDL repository and that it is accessible to the entire lung research community.
provide an understanding of the mechanisms in place to access the BRINDL repository, as well as insight and examples for how the tissues have been and could be utilized in lung research
discuss new, cross-consortium, efforts regarding lung cell nomenclature and ontology including introduction to the LungMAP Cell Cards and HuBMAP Anatomical Structures, Cell Types and Biomarkers (ASCT+B) resources

MTE34 EEG for the General Intensivist
10:15 - 11:!5 a.m.

×

MTE34 EEG for the General Intensivist

Session Description: This session will be a primer on EEG for intensive care physicians. The primary focus will be to review basic EEG interpretation and terminology for the non-expert. Approximately 20-30 minutes of the session will be didactic and will focus on EEG setup and patterns commonly seen in critically injured patients. Specifically, we will cover the characteristics of the "normal" EEG, EEG slowing, periodic epileptiform discharges (and its subtypes), burst suppression, and electrographic seizures (and its subtypes). Alongside these characteristic EEG findings, we will provide clinical pearls. The remainder of the session will be for discussion/interchange between the presenter and the audience.

Target Audience: Intensive care physicians

Learning Objectives:

recognize normal and abnormal EEGs
describe relevant EEG terminology
identify common EEG patterns in critically ill patients and describe their significance

MTE35 Engaging Partners to Promote Adherence to CPAP Treatment
10:15 - 11:!5 a.m.

×

MTE35 Engaging Partners to Promote Adherence to CPAP Treatment

Session Description: Poor adherence to continuous positive airway pressure (CPAP) treatment has been the foremost obstacle in the effective management of obstructive sleep apnea (OSA). Existing interventions promoting CPAP adherence focus only on the diagnosed individual and are delivered mostly by health professionals, with limited success. However, the partner of the patient is already a part of the OSA diagnosis and treatment. This session will examine the significant role partners play in CPAP adherence, and discuss strategies to engage both patients and partners to achieve successful CPAP use.

Target Audience: Clinicians (interdisciplinary care providers), educators, and researcher who interact with patients receiving CPAP treatment for obstructive sleep apnea

Learning Objectives:

understand the important role partners play in CPAP adherence and the critical need to engage both patients and their partners to promote CPAP use
define new strategies to promote CPAP adherence
improve OSA clinical care by engaging both CPAP users and their partners

MTE36 Remote Physical Activity Monitoring in Pulmonary Vascular Disease
10:15 - 11:!5 a.m.

×

MTE36 Remote Physical Activity Monitoring in Pulmonary Vascular Disease

Session Description: Physical activity limitation is frequently the presenting complaint in patients with pulmonary arterial hypertension (PAH) and the target of clinical trials of new therapies. Most studies use maximal or submaximal exercise capacity as a surrogate for daily activity and functional classification assignment by a clinician. However, these assessments do not fully capture the full extent of the variability and patterns of physical activity and are not patient-focused. This session will highlight current knowledge and gaps in the measurement of physical activity in PAH for clinical care and clinical research.

Target Audience: Providers caring for patients with pulmonary hypertension or other chronic lung diseases

Learning Objectives:

define current knowledge and gaps in the assessment of daily physical activity in pulmonary arterial hypertension (PAH)
describe recent research using Actigraphy for remote monitoring in PAH
improve learners understanding of the role of remote monitoring as a tool for clinical care and clinical research in PAH

MTE37 Exercise Test in New Era: Updated Quality in Pulmonary Rehabilitation After COVID-19
12 - 1 p.m.

×

MTE37 Exercise Test in New Era: Updated Quality in Pulmonary Rehabilitation After COVID-19

Session Description: The demand for the exercise test has changed during the COVID-19 pandemic. The importance of the cardiopulmonary exercise testing in the exercise assessment is absolute, however its potential worth is expected with limited resources and in individuals with ADL decline. Although the field walking tests remain easy and highly versatile, they need to be more adaptable according to recent changes in the medical settings. One-minute sit-to-stand test may develop new possibilities and replace the previous exercise tests. We need to continue to explore the possibility of the exercise test that can be conducted in the home or remote management.

Target Audience: Clinicians and researchers related to exercise test; those with clinical responsibilities in pulmonary rehabilitation

Learning Objectives:

better assessments of exercise capacity can be performed in sedated people with ADL decline
clinicians will have more appropriate options of exercise tests in the limited resources and infection control practices

MTE38 Refractory Sarcoidosis: When and How to Use TNF-Inhibitors
12 - 1 p.m.

×

MTE38 Refractory Sarcoidosis: When and How to Use TNF-Inhibitors

Session Description: This session is intended to inform clinicians when and how to use TNF inhibitors such as infliximab and adalimumab in refractory sarcoidosis. It will also cover tips and tricks for insurance approval and monitoring for treatment response and toxicity.

Target Audience: Clinicians caring for patients with refractory sarcoidosis and who are interested in learning more about the use of TNF inhibitors in these patients

Learning Objectives:

incorporate new guidelines into clinical practice on the use of TNF inhibitors in sarcoidosis
better counsel patient on the use of TNF inhibitors in sarcoidosis
apply expert recommendations on the use and monitoring of TNF inhibitors in sarcoidosis

MTE39 Navigating Social Media for Healthcare Professionals
12 - 1 p.m.

×

MTE39 Navigating Social Media for Healthcare Professionals

Session Description: Social media has transformed communication and education in the healthcare community. While there are clear benefits such as rapid dissemination of and open access to important medical information, amplifying colleagues' and institutional work, and sharing insights and experiences at conferences, there are also areas of concern and uncertainty. Critical care professionals may be reluctant to share their important insights or experiences for fear of being perceived as unprofessional or worries about violating patient confidentiality when teaching via social media. In this session, we review the professional benefits of social media while providing a practical framework and examples for safely maximizing the impact of your social media presence.

Target Audience: All healthcare professionals.

Learning Objectives:

understand the opportunities and benefits of engaging in social media in medicine in terms of communicating with colleagues, sharing knowledge, and promoting peers
identify and judge appropriate steps in gray areas such as patient confidentiality and professionalism in the online arena

MTE40 Cystic Fibrosis: Clinical Challenges in the Era of Highly Effective Modulator Therapy
12 - 1 p.m.

×

MTE40 Cystic Fibrosis: Clinical Challenges in the Era of Highly Effective Modulator Therapy

Session Description: The introduction of highly effective protein modulator therapies has been the greatest advancement in the management of cystic fibrosis (CF) since the discovery of the disease-causing gene, CFTR. Our understanding of the full extent of the impact of these therapies on this patient population continues to evolve. This session aims to review persistent and emerging clinical challenges that have arisen in the era of protein modulator therapy. This session will highlight clinical considerations as we care for an aging population of people with a "New CF" and discuss future opportunities to address remaining gaps in care.

Target Audience: Adult and Pediatric Clinicians, Fellows and Trainees interested in cystic fibrosis, Clinical and Translational Scientists, licensed clinical social workers

Learning Objectives:

describe the major milestones and key clinical outcomes in CF patient care over the past several years with the introduction of highly effective CFTR protein modulator therapies
define new and emerging clinical trends and challenges in mental health, weight management, CF-related diabetes, fertility, age-related care, and infectious disease in the CF population
identify opportunities for further investigation into these emerging patient outcome gaps and review current resources available for CF providers and their patients

MTE41 Playing at an Away Field: Real Life Lessons for International Medical Graduates Who are Pursuing Clinician Scientist Track
12 - 1 p.m.

×

MTE41 Playing at an Away Field: Real Life Lessons for International Medical Graduates Who are Pursuing Clinician Scientist Track

Session Description: This session will provide some real-life lessons from different international medical graduates (IMGs) who succeeded as physician scientists in the USA and provide tips for IMGs who are interested in pursuing a career in science. This session will only include a few slides explaining the issues and challenges that face IMGs who wants to pursue clinician scientist track. More importantly we will provide panel discussions where the moderator will ask about the personal experience of the experts and provide some guidance for the young investigators, fellows, residents and students. We will also accept questions from the audience and proceed to provide some advice from each panelist in an interactive atmosphere.

Target Audience: International Medical Graduates or students who want to pursue a career as clinician scientists in the USA

Learning Objectives:

learn how to navigate visa effects on training opportunities and career
better understand funding opportunities for IMGs.
improve presentation and communications skills

MTE42 Smoking Related Interstitial Lung Diseases
12 - 1 p.m.

×

MTE42 Smoking Related Interstitial Lung Diseases

Session Description: The harmful effects of smoking extend beyond COPD. Attendees will learn about the spectrum of smoking related interstitial lung diseases (ILD) including desquamative interstitial pneumonia, respiratory bronchiolitis-associated ILD, combined pulmonary fibrosis and emphysema, and vaping induced lung injury.

Target Audience: Physicians, nurse practitioners, nurse

Learning Objectives:

be able to describe the CT findings and treatment of DIP and RBILD
define new strategies in the management of combined pulmonary fibrosis and emphysema related to antifibrotics
better counsel patients on the risk of vaping induced lung injury

MTE43 Organs-on-Chips for the Lungs: Past, Current, and Future
12 - 1 p.m.

×

MTE43 Organs-on-Chips for the Lungs: Past, Current, and Future

Session Description: Organs-on-Chips are biomimetic, microfluidic, cell culture devices created with microchip manufacturing methods that contain continuously perfused hollow microchannels inhabited by living tissue cells arranged to simulate organ-level physiology. By recapitulating the multicellular architectures, tissue-tissue interfaces, chemical gradients, mechanical cues, and vascular perfusion of the body, these devices produce levels of tissue and organ functionality not possible with conventional 2D or 3D culture systems. In this session, Dr. Benam will cover recent advances in Lung-on-a-Chip technologies, their applications, needs and future directions.

Target Audience: PhD and MD students, fellows, early-career and mid-career researchers

Learning Objectives:

learn about latest Organ-on-a-Chip technologies in pulmonary space for translational preclinical modeling
learn about non-living engineered systems that emulate human lung exposure to inhaled particles
learn about drug development approaches using Lung-on-a-Chip technologies

MTE44 Virtual Pulmonary Rehabilitation: Identifying Key Strategies and Conquering the Challenges to Establishing a Successful Program
12 - 1 p.m.

×

MTE44 Virtual Pulmonary Rehabilitation: Identifying Key Strategies and Conquering the Challenges to Establishing a Successful Program

Session Description: Virtual pulmonary rehabilitation (PR) is now approved for specific CMS diagnoses and many institutions have started or are in the process of initiating a virtual PR program, but there are many questions and challenges for referring clinicians and PR directors who are adopting this new approach. What is the best way to deliver virtual PR? What is the evidence behind the efficacy of virtual PR? What are the logistical barriers and hurdles to providing PR virtually? This session will provide an interactive format to identify best practice approaches and strategies to address challenges when establishing a virtual PR program.

Target Audience: Clinicians, nurses, respiratory therapists especially those interested in establishing a virtual PR program, pulmonary rehabilitation directors, physicians who see patients with chronic lung disease

Learning Objectives:

become familiar with the evidence, data, and literature supporting the use of telehealth or virtual pulmonary rehabilitation
learn how to implement, establish, and expand a virtual pulmonary rehabilitation program in your own practice using best strategy guidelines and evidence
determine which patients should be selected and referred for virtual pulmonary rehabilitation and identify strategies that allow one to optimize and individualize patient care

MTE45 Central Sleep Apnea, Pathophysiological Classification and Related Management
12 - 1 p.m.

×

MTE45 Central Sleep Apnea, Pathophysiological Classification and Related Management

Session Description: I discuss a new classification of CSA; the paper just accepted by the SLEEPJ.It classifies CSA base don pathophysiological causes/mechanisms and guide to therapy

Target Audience: Pulmonologists, sleep physician, fellows ,technicians and nurses

Learning Objectives:

discuss a new classification of Central Sleep Apnea
based on pathophysiological causes, guide to therapy

Wednesday, May 24

MTE48 Advocacy in Lung Health
9:15 - 10:15 a.m.

×

MTE48 Advocacy in Lung Health

Session Description: This session is about how to improve outcomes in lung health through advocacy. Researchers and clinicians study and manage asthma, COPD, lung diseases related to environmental and occupational disease. One important facet of management is lung health advocacy. It is critical to develop a framework that ensures meaningful involvement of the community in decisions affecting patient lives. We have the power to help people live better lives through research, education, and policy change.

Target Audience: Pediatric and adult pulmonologists; those with clinical, research and administrative responsibilities

Learning Objectives:

incorporate effective healthcare advocacy into current practice to improve patient quality of life
learn to identify a problem amenable to advocacy and defining the problem and its scope
identify and engage strategic partners, develop a strategic actionplan, communicate an effective message

MTE49 Phenotyping Systemic Sclerosis Associated Pulmonary Hypertension
9:15 - 10:15 a.m.

×

MTE49 Phenotyping Systemic Sclerosis Associated Pulmonary Hypertension

Session Description: Patients with Systemic Sclerosis (SSc) often present with heterogeneous and sometimes, overlapping phenotypes of pulmonary hypertension (PH). Utilizing three different clinical cases, this session describes an evidence based, sequential, diagnostic work up and management of patients with SSc and PH.

Target Audience: Cardiologists, pulmonologists, rheumatologists and internal medicine specialists who care for patients with Systemic sclerosis (SSc)

Learning Objectives:

review current WSPH guidelines for the definitions of PAH and PH-ILD
learn to combine imaging, pulmonary function testing, serum biomarker testing, Echo and right heart catheterization data to appropriately identify the SSc-PH phenotype
learn to identify the most appropriate treatment strategy for the SSc PH patient using the previously described diagnostic framework

MTE50 Controversies in the Management of Patients With CCHS: Updates in Management
9:15 - 10:15 a.m.

×

MTE50 Controversies in the Management of Patients With CCHS: Updates in Management

Session Description: Congenital central hypoventilation syndrome (CCHS) is a disorder due to PHOX2B gene variants characterized by alveolar hypoventilation and autonomic nervous system dysfunction. Patients lack ventilatory responses to hypoxemia and hypercapnia during sleep and /or wakefulness. Some patients with PHOX2B gene mutation have minimal /absent symptoms. Modes of ventilation include positive pressure ventilation via tracheostomy, noninvasive ventilation by mask, or diaphragm pacing. In a case based approach, this session will address the different presentations and phenotypes of CCHS, philosophy of ventilatory support, the different options for ventilatory support, and approach to surveillance of respiratory status and associated ANS dysfunction.

Target Audience: Adult and pediatric pulmonologists, sleep medicine physicians, physicians in training, physician assistants, nurses and nurse practitioners, and respiratory therapists, researchers

Learning Objectives:

describe the classic and atypical presentation of congenital central hypoventilation syndrome
develop surveillance plan for monitoring patients with CCHS
formulate options for ventilatory support with focus on providing the most appropriate mode of ventilation for each patient

MTE51 Familial Pulmonary Fibrosis
9:15 - 10:15 a.m.

×

MTE51 Familial Pulmonary Fibrosis

Session Description: This session will explore the clinical and genetic characteristics of patients with familial pulmonary fibrosis. We will discuss how to take a comprehensive family history, how to identify telltale clinical signs that accompany FPF genetic syndromes, how to incorporate family history information into clinical decision-making, and when to consider genetic testing.

Target Audience: Clinicians who see patients with pulmonary fibrosis

Learning Objectives:

better diagnose familial pulmonary fibrosis by learning how to take a comprehensive family history
incorporate family history information into clinical decision-making
appropriately identify who is a candidate for clinical genetic testing

MTE52 Leveraging Big Data to Bridge the Knowledge-Outcome Gaps in Rare Lung Disease
9:15 - 10:15 a.m.

×

MTE52 Leveraging Big Data to Bridge the Knowledge-Outcome Gaps in Rare Lung Disease

Session Description: The past decade has seen substantial progress in our understanding of interstitial lung diseases. However, the efficiency with which we have been able to answer pressing questions has been limited by traditional research methodology that relies on individual patient recruitment. The era of electronic health records (EHR) and "big data" is changing the landscape of clinical research. In this session, we will highlight how EHR data sets represent a new opportunity to change the research paradigm and more efficiently answer questions related to epidemiology, comparative effectives and predictive analytics, using the Veterans Affairs learning healthcare system as a case study.

Target Audience: Health care providers who take care of patients with interstitial lung disease or who are interested in using the learning healthcare system to improve patient care; clinical and health services researchers, data scientists

Learning Objectives:

identify the challenges and opportunities of repurposing real-world data for clinical and implementation science research
describe how electronic health record data can answer pressing research question about rare lung disease
integrate real-world data into clinical decision making for process improvement

MTE53 What are the Reasons for the Negative Results of RCTS in OSA
11 a.m. - 12 p.m.

×

MTE53 What are the Reasons for the Negative Results of RCTS in OSA

Session Description: Dr. Javaheri will discuss the multiple reasons for the neutral results of RCTs for treatment of OSA

Target Audience: Pulmonologists, sleep practicioners, technologists, pulmonary and sleep fellows, and nurses.

Learning Objectives:

discuss the multiple reasons for the failure of RCTs to rtreat OSAS with CPAP
apply the current knowledge to take care of OSA patients.
lessons for future trials

MTE54 Understanding Severe and Steroid-refractory Immune Checkpoint Inhibitor Pneumonitis
11 a.m. - 12 p.m.

×

MTE54 Understanding Severe and Steroid-Refractory Immune Checkpoint Inhibitor Pneumonitis

Session Description: Immune checkpoint inhibitors (ICIs) have revolutionized the treatment of lung cancer and other malignancies and provide many patients with significant improvements in survival. Inherent to these therapies are immune-related complications, including pneumonitis. While most ICI-related pneumonitis is manageable, high-grade and steroid-refractory cases are a source of diagnostic and therapeutic challenge for pulmonologists. As the role for ICIs in lung cancer expand into earlier stage disease, the number of individuals encountering immunotherapy will increase and complications will become more prevalent. In this session, the presenters will discuss the management of immunotherapy pneumonitis and review recent insights from the literature, emphasizing the approach to severe and steroid-refractory cases.

Target Audience: Clinicians taking care of cancer patients with pulmonary complications from cancer treatment

Learning Objectives:

recognize the Incidence, Risk Factors, and Presentation of Severe Checkpoint Inhibitor Pneumonitis
learn the recommended multidisciplinary approach for diagnostic workup of checkpoint inhibitor pneumonitis
recognize treatment options for severe and steroid-refractory checkpoint inhibitor pneumonitis

MTE55 Running an Effective Interstitial Lung Disease Multidisciplinary Meeting: Reaching the Gold Standard
11 a.m. - 12 p.m.

×

MTE55 Running an Effective Interstitial Lung Disease Multidisciplinary Meeting: Reaching the Gold Standard

Session Description: As the gold standard for interstitial lung disease (ILD) diagnosis, the multidisciplinary meeting (MDM) is a vital component of ILD care. This session will review the evidence for routine use of the MDM in ILD diagnosis and essential components and procedures for running or starting an effective MDM. It will include strategies for including community practices and others outside of an ILD center in the MDM, and identify which patients necessitate review at an ILD MDM.

Target Audience: Pulmonologists and trainees from both community and academic settings caring for patients with interstitial lung disease. It will be relevant to those from US as well as international locations.

Learning Objectives:

identify the essential components and procedures for an effective ILD multidisciplinary meeting
incorporate strategies for including remote physicians and practices in the MDM
recognize which patients necessitate review at an ILD MDM

MTE56 Complex In Vitro Models of the Lung: Bridging the Gap Between Disease Complexity and Therapeutics
11 a.m. - 12 p.m.

×

MTE56 Complex In Vitro Models of the Lung: Bridging the Gap Between Disease Complexity and Therapeutics

Session Description: The pathobiology of lung diseases is complex involving intricate communications between different lung cell types, the extracellular matrix (ECM), and the various inhaled agents that trigger disease pathogenesis. This session will feature presentations that will specifically discuss complex in vitro systems developed with primary lung cells and the ECM. After the session, participants will understand how different models such as static co-cultures, lung organoids, precision-cut lung slices, lung 3D printing and lung-on-a-chip models that closely mimic the lung-microenvironment, aid the study of abnormal cell-cell-ECM communications and are pushing the boundaries of lung therapeutic studies.

Target Audience: Basic and translational scientists, junior scientists (Postdocs/Ph.D. and Masters Students), and early-stage clinical scientists with an interest in understanding in vitro models used to assess the pathobiology of lung disease

Learning Objectives:

improve knowledge of participants on the applications and usage of the various complex in vitro models of chronic lung diseases important for understanding disease pathobiology
apply the knowledge of different complex in vitro models of lung diseases in novel therapeutic studies

MTE57 Go Team: Applying Team Science Principles for Effective Interprofessional Leadership
11 a.m. - 12 p.m.

×

MTE57 Go Team: Applying Team Science Principles for Effective Interprofessional Leadership

Session Description: There is mounting evidence that critical care teams that include interdisciplinary team members have better patient outcomes. Complex healthcare environments such as ICUs require strong leadership of these multidisciplinary teams. A well-integrated team approach does not arise by coincidence. There must be deliberate cultivation of principles and practices. In this session, we will explore team science and delve into four principles: leadership style, psychological safety, transactive memory, and mutual accountability. These concepts will be applied to common clinical critical care activities to demonstrate how to incorporate these concepts into the daily practice of our trainees, educators, and faculty.

Target Audience: Clinicians (physicians, nurses, fellows, residents)

Learning Objectives:

explore four principles of team science: leadership style, psychological safety, transactive memory, and mutual accountability
understand how these principles are applied to task performance
apply these principles to common clinical activities in the intensive care unit

MTE58 Overview of Bronchiolar Disorders
11 a.m. - 12 p.m.

×

MTE58 Overview of Bronchiolar Disorders

Session Description: This session will focus on the diagnosis and management of primary bronchiolar disorders such as constrictive bronchiolitis, follicular bronchiolitis, acute bronchiolitis, respiratory bronchiolitis, and diffuse panbronchiolitis. I will review imaging findings, pathology, therapy and outcomes.

Target Audience: Providers of lung health: including fellows, general pulmonologists

Learning Objectives:

identify CT findings of bronchiolar disorders
understand diagnostic algorithm of bronchiolar disorders
improve the quality of life/health status of these patients by early recognition of these conditions

MTE59 Molecular Diagnostics in Severe Pneumonia: The Evidence and Case-Based Discussion of Clinical Implementation
11 a.m. - 12 p.m.

×

MTE59 Molecular Diagnostics in Severe Pneumonia: The Evidence and Case-Based Discussion of Clinical Implementation

Session Description: Molecular diagnostics have excellent test characteristics and provide rapid results. They are potentially practice-changing in the care of critically ill patients with severe pneumonia. This is especially important for antibiotic stewardship in face of rising multi-drug resistant organisms. Multiplex viral testing has been adopted widely, but newer bacterial tests are not yet mainstream. In this session, we will review the data behind current molecular diagnostic techniques for bacterial infections and the examples of clinical implementation using case-based discussion with audience response integration.

Target Audience: Clinical providers of patients with severe pneumonia

Learning Objectives:

advance clinician knowledge of the current state and evidence of bacterial molecular diagnostics in severe pneumonia
review examples of clinical implementation of these technologies
discuss future expansion and next steps in molecular testing to improve care for critically ill patients with pneumonia

MTE60 Extracorporeal Membrane Oxygenation for Cardiac Arrest: When, Why and How
11 a.m. - 12 p.m.

×

MTE60 Extracorporeal Membrane Oxygenation for Cardiac Arrest: When, Why and How

Session Description: Observational studies have suggested a potential role for ECMO in the treatment of cardiac arrest, a condition that otherwise has an 80-90% mortality across all types. With publication of the ARREST trial in 2019 and then the Prague trial in 2022, we now have RCT evidence for extracorporeal cardiopulmonary resuscitation (ECPR). International and society guidelines now endorse ECPR for select types of cardiac arrest. This session will present the new evidence and guidelines, discuss controversies regarding ECPR care and potential adverse effects of prioritizing early treatment, and evaluate barriers to optimal care and potential methods to overcome them.

Target Audience: Clinicians, trainees, and nurses who care for patients with cardiac arrest; healthcare leaders and administrators; individuals involved in critical care or cardiac arrest research, quality improvement, or policy.

Learning Objectives:

apply the data for ECPR to patients in cardiac arrest in order to identify optimal candidates for this therapy, including factors associated with favorable survival
apply the data for ECPR to programs in order to understand the programmatic infrastructure required to perform ECPR, and the ICU care factors associated with favorable patient outcomes
identify barriers to ECPR use and program development

MTE61 From Feathers to Antifibrotics: Exposures, Diagnosis, and Treatment in Hypersensitivity Pneumonitis
11 a.m. - 12 p.m.

×

MTE61 From Feathers to Antifibrotics: Exposures, Diagnosis, and Treatment in Hypersensitivty Pneumonitis

Session Description: This case-based session provides a practical approach to the diagnosis, management, and prognosis of hypersensitivity pneumonitis (HP) in the pulmonary clinic. Best practices in testing for and identifying culprit HP exposures are explored, including standard questionnaires and history-taking tips. Recent consensus guidelines in HP diagnosis are compared and applied to case-based scenarios with audience response to reveal nuances in diagnosis. Evidence-based treatment options and ongoing clinical trials related to fibrotic HP are discussed. Finally, factors affecting prognosis, including imaging findings, telomere length, and genetic abnormalities such as MUC5B minor alleles are added for guidance in transplant referral and patient counseling.

Target Audience: General pulmonologists, pulmonologists who specialize in ILD, allied health professionals interested in ILD, pulmonologists with interest in lung transplant, fellows/early career professionals with clinical or research interest in ILD

Learning Objectives:

incorporate new guidelines in diagnosing non-fibrotic and fibrotic hypersensitivity pneumonitis (HP). This will include indications for biopsy (including modalities of biopsy) and bronchoalveolar lavage for lymphocytosis
define new strategies to manage the care of patients with HP including antigen avoidance, immunosuppressants, and antifibrotics. With antigen avoidance strategies, the learner will improve patient quality of life
apply new findings regarding prognosis of patients with HP and more appropriately refer to lung transplantation. This will incorporate markers of poor prognosis including honeycombing and telomere length