For sponsors looking for a budget friendly presentation option in the ATS 2022 Exhibit Hall, a Guru Bar presentation is the perfect choice. Guru Bars provide an intimate venue for sponsors to create a dynamic interaction with attendees. The sponsor is given the opportunity to do a brief presentation and then engage the audience with a challenge or question to prompt discussion. The discussion allows attendees to interact with both the presenter and each other for a richer educational experience.
Available Sunday through Tuesday, this learning experience consists of burst sessions of 15-20 minutes, led by subject-matter experts from industry. A Burst Session consists of a 10-minute burst outlining a problem statement, mitigating factors, the host's perspective/solution, and a challenge or question posed to attendees, who discuss for the remaining 5-10 minutes.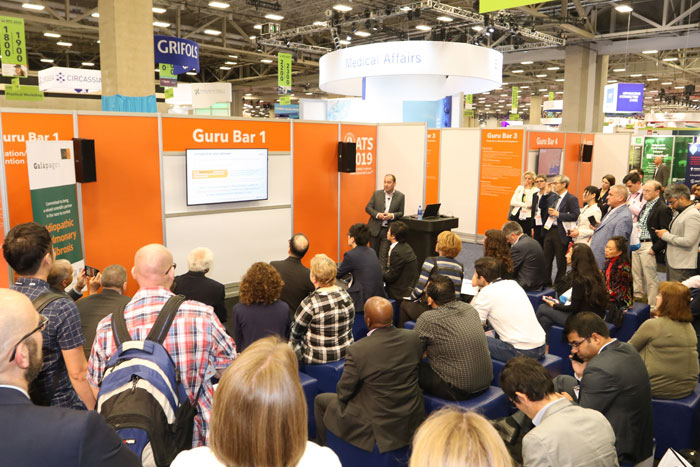 Availability & Fees
Guru Bars are 20 minutes in length with seating for 25 people; 10 per day available.
Guru Bar 1 & 3

Guru Bar 2 & 4

11:30 - 11:50 a.m.
12 - 12:20 p.m.
12:30 - 12:50 p.m.
1 - 1:20 p.m.
1:30 - 1:50 p.m.
SUNDAY $4,500
MONDAY $4,000
TUESDAY $3,500
Guru Bars are available on a first-come, first-served basis. A sponsor will be assigned a maximum of five programs initially with a possibility of one additional program, based on availability.
Guru Bars are 20 minute programs and run every 30 minutes from 11:30 a.m. – 2 p.m. in the Exhibit Hall. Please be courteous and adhere to the allotted time. Programs running long risk having their sound system turned off.
Each Guru Bar seats 25 people with standing room around the perimeter of the space.
Programs offering CME/CE/MOC credit are not permitted. The use of any space within the convention center that is affiliated with the Guru Bar should support conference activities, and cannot be used in combination with developing CME/CE Material or any form of Professional Credit.
A standard A/V package comprised of monitor, speakers, wireless microphone, and laptop computer is furnished by the ATS.
Listing on pre-conference and onsite marketing materials, including the ATS 2022 Schedule at a Glance, ATS Conference News site, ATS provided signage, Conference mobile app
Dedicated industry program page on the ATS conference site
Recognition in the ATS 2022 social media marketing
Recognition in an email highlighting the industry programs
Complimentary one-time use of the ATS 2022 Attendee List Rental
Badge scanners to capture attendee leads - two for large and medium Industry Theaters, and one for Mini Theaters
Online application opens Tuesday, November 16 at 11:30 a.m. Eastern Time.
Applicants select the top five choices for day, time, and location during the application process.
All applications are processed in order of receipt and placed by the ATS within five weeks of submission.
All placed applicants receive details of placement and deadlines for completing the contract and downloading the invoice. Contracts are due 30 business days after receipt.
Full Payment is due February 10, 2022. Programs are non-refundable after this date. A deposit is not required, but a $500 cancellation fee is incurred for any program cancelled after receipt of signed contract.
Program title, speaker list, description, etc. due March 18, 2022.
Please contact Fiona Zheng, Associate Director, Sponsorships and Programs with any questions you may have at 212-315-8605 or fzheng@thoracic.org.