2019 Official Attendee Audit
---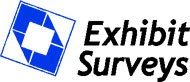 We know that as an industry professional you depend on the registration data to make an informed decision. We are pleased to present you with the certified audit data from the ATS 2019 International Conference. This certified audit is part of our continued commitment to earning your confidence; a commitment to transparency, integrity, and value for our Exhibitors and Supporting Partners.
Exhibit Surveys is an independent and certified auditor who objectively confirms all of the registration numbers including: paid conference attendees, exhibits only attendees, and exhibitors who physically attended the conference. The Event Audit Report presents the audited data in summary form.
Not all shows complete an audit of their registration data. The American Thoracic Society is proud to provide this independent, third-party validated attendance and demographic data to their exhibitors. We believe it is important for you to see an audit from the ATS, for several reasons:
To provide you confidence and consistency in published registration data.
To help ensure your conference objectives are realistic and achievable
To help you budget and plan more effectively.