ATS 2020: Attendance Justification Toolkit
---
To help you secure the necessary approvals and funds from your employer to attend ATS 2020 in Philadelphia, we've put together tips and a letter template to make it easy for you.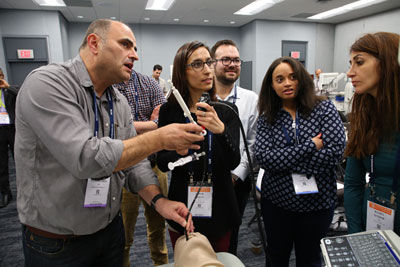 For health care professionals, staying ahead of the latest advances in science, research, and technology is critical to patient care and your career. At the ATS International Conference, you'll find more than 14,000 pulmonary, critical care, and sleep professionals from around the world who have come together to connect, engage, and share ideas with colleagues from across medical and scientific disciplines. It truly is where today's science meets tomorrow's care — and you should be there!
Build Your Case
Prepare a thoughtful justification for your attendance at ATS 2020 by considering the following:
Highlight the Takeaways
Outline three to five key reasons for attending the conference and how they will benefit your institution. Example: ATS 2020 offers unparalleled learning and networking opportunities, with access to experts and thought leaders in pulmonary, critical care, and sleep medicine. More than 14,000 scientists, clinicians, and other health care professionals from around the world will be at the conference, offering an exciting opportunity to engage in thoughtful discussion on the latest advancements in science, medicine, and patient care. As an attendee, I will gain proven and actionable insights, tools, and solutions that can be implemented immediately upon my return.
Know Your Stuff
Familiarize yourself with conference sessions, topics, discussions, and networking events, and identify those that are most likely to help you contribute to your institution's goals.
Make a Plan
Create a sample agenda that includes sessions and networking events you would like to attend. Also, identify three to five presenters you'd like to connect with at the conference, and develop a list of questions/topics on which you'd like to engage them.
Share the Knowledge
Offer to share your notes and handouts from the conference with your colleagues and impart what you learned. Your attendance at the conference will benefit your colleagues, too!
Sign Up Early
With Early Registration, you'll receive the greatest savings possible. Be sure to register and book your housing by the March 12 Early Registration deadline!
Justification Letter
Your employer may require you to submit forms or a letter to your supervisor and/or institution that formally outlines your request to attend ATS 2020. To help make it easier for you, we've put together a letter template that provides an overview of the conference and a breakdown of your anticipated conference-related fees: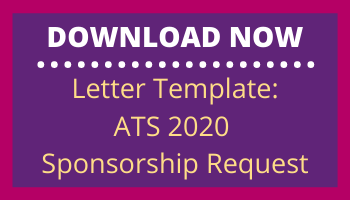 We hope to see you in Philadelphia!