Enter the 3rd Annual BEAR Cage for a Chance to Win $5,000
---

The ATS Drug Device Discovery and Development (DDDD) Committee is excited to announce the launch of the 3rd Annual BEAR Cage (Building Education to Advance Research) competition at ATS 2017 in Washington, DC. The BEAR Cage was developed to promote productive discussion of innovative research ideas in the setting of a fun, yet competitive, forum promoting opportunities for collaboration and mentorship.
Early career investigators are invited to submit your research proposals to the BEAR Cage competition by December 16 for a chance to win up to $5,000 at ATS 2017.
The top three submissions chosen by the ATS Drug Device Discovery and Development (DDDD) Committee will be invited to pitch their highly innovative research proposals to a panel of translational science experts representing academia, industry, and governmental sectors in front of a live audience during the ATS 2017 International Conference.
The panel, with audience participation, will vet the proposals with each presenter and ultimately award a grand prize winner a $5,000 prize as well as two runner-up proposals, each receiving $2,500.
The competition is open to all ATS members who are early career investigators.
Please see full details and application criteria below.
Deadline Extended – Apply by January 3, 2017
For any questions about the competition and to submit your application please send an email to dddd@thoracic.org.
ATS 2016 BEAR Cage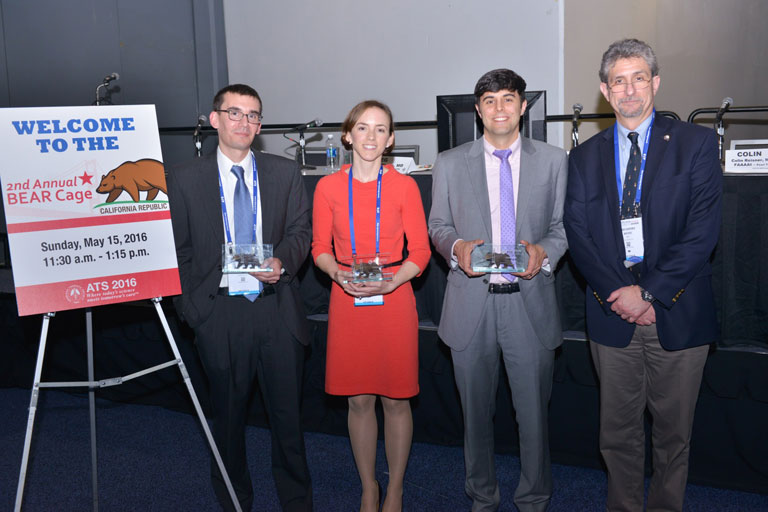 "Jake Brenner, MD, PhD, (second from right) University of Pennsylvania, was selected as the winner of the 2nd Annual ATS BEAR Cage competition. Theodore F. Reiss, MD, MBE, (right) chair of the ATS DDDD Committee, presents the awards to Dr. Brenner for "Pulmonary Endothelial-Targeted Liposomes (PELs) for the Treatment of ARDS" and the runners-up who received $2,500 each, to Katherine N. Cahill, MD, Harvard Medical School, for "Targeting Mast Cells in Aspirin-exacerbated Respiratory Disease (AERD)" and Valentin Prieto-Centurion, MD, University of Illinois at Chicago, for "Promoting Activity After COPD Exacerbations (PACE)."
ATS 2015 BEAR Cage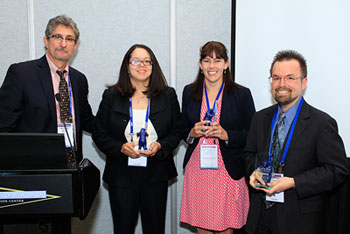 "Theodore F. Reiss, MD, MBE, chair of the ATS DDDD Committee, with the 2015 BEAR Cage winner, Joshua P. Fessel, MD, PhD (right), Vanderbilt University Medical Center, for "A Novel System to Detect and Prevent Impending Aspiration – AspirGard IT-NGT" and the two finalists, Laura Crotty-Alexander, MD (second from right), University of California, San Diego, for "Effects of E-Cigarette Vapor on Viability, Inflammatory Responses and Antimicrobial Function of Airway Cells" and Tiffany M. Powell-Wiley, MD, MPH, FAHA, National Heart, Lung, and Blood Institute, for "Tailoring Mobile Health Technology to Neighborhood Environment: A Multi-Level, Community-Based Pilot Physical Activity Intervention."