ATS 2017 Recap: Pulmonary and Critical Care Highlights
---
ATS 2017 marked the 113th year of the ATS International Conference, making it the longest running, large-scale conference in the world offering groundbreaking research in pulmonary, critical care, and sleep medicine! This past May, we brought it back to where it began — Washington, DC. More than 16,000 clinicians, researchers, and pulmonary, critical care, and sleep professionals from 102 countries around the globe attended ATS 2017 to:
If you attended ATS 2017, here are just a few of the highlights; if you didn't, see what you missed:
---
Attendees Rallied on Capitol Hill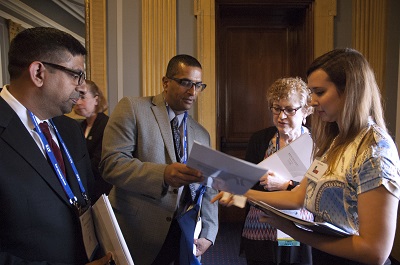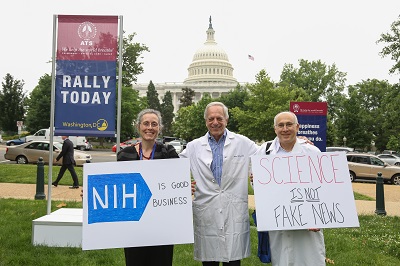 Approximately 500 ATS 2017 attendees came together for the ATS Rally on Capitol Hill: Lab Coats for Lungs. The purpose of the event was to call attention to policies that jeopardize patient health, research, and the environment. U.S. Senators Edward Markey (D-MA), a tireless advocate for clean air policy, and Tom Carper (D-DE) were also in attendance and addressed the crowd, which included pulmonary clinicians and researchers, as well as patient advocates.
Attendees also participated in the Hill Day that took place during the conference. Physicians, researchers, and patients met with their Congressional Delegation to weigh in on various initiatives, from funding federal agencies to matters relating to lung health research and pulmonary, critical care and sleep research.
[Back to Top]
---
Download the Best of the ATS Conference: Pulmonary and Critical Care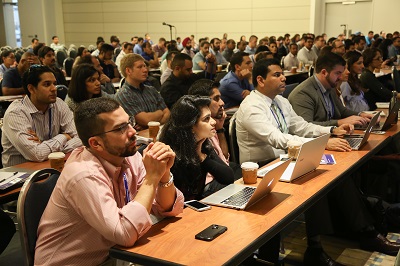 You can now download the Best of the ATS Conference, which includes research and insights shared during select Postgraduate Courses, Scientific Symposia, Core Curriculum Sessions, Workshops, and General Sessions. Key pulmonary and critical care topics included:
See the complete list of the Best of the ATS Conference.
ATS 2017 Full Conference Registrants: You are entitled to receive 12 months of free access to online viewing of select ATS 2017 Scientific Symposia webcasts. The webcasts are a comprehensive educational resource consisting of PowerPoint presentation slides synched with live presentation audio. They are available now in the ATS Store, compliments of the ATS. To access the free sessions:
Go to the ATS Store.
Click on the Account link at the top right of the page.
Click on "Log in with my conference registration."
Enter your conference badge number and last name.
Click Submit.
Click on the Free Conference Sessions tab.
[Back to Top]
---
Key Pulmonary and Critical Care Research Findings Announced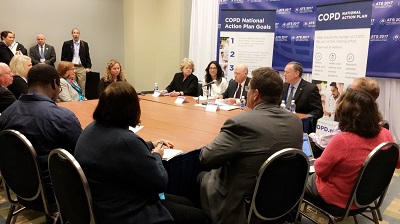 ATS 2017 served as a platform for researchers to release key findings and scientific discoveries, such as:
Check out all of the research highlights from ATS 2017.
[Back to Top]
---
ATS Foundation Research Program Benefit Raised More Than $425,000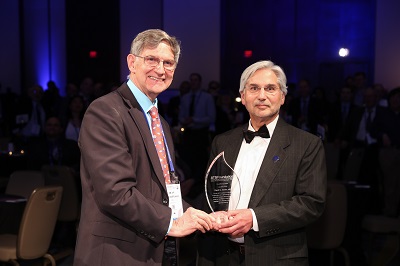 Attendees gathered for the Ninth Annual ATS Foundation Research Program Benefit at the Marriott Marquis Washington, DC. The event raised more than $425,000 from corporate, medical institution, and individual supporters; proceeds will support research grants for young investigators who strive to become independent researchers. The benefit also honored David M. Center, MD, with the 2017 Breathing for Life Award for his service as a clinician, investigator and teacher. This award is the highest honor given to an ATS member for philanthropy, scientific achievement, and commitment to mentorship.
Mark your calendars! The 10th Annual ATS Foundation Research Program Benefit will take place on Saturday, May 19, 2018, at 7 p.m. at the Manchester Grand Hyatt.
[Back to Top]
---
Exhibit Hall Featured the Latest Technology, Innovation, and Clinical Trial Products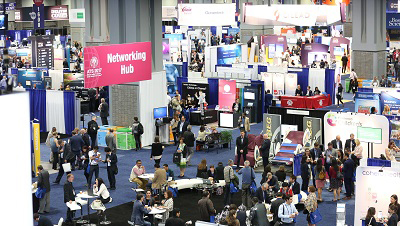 The ATS International Conference Exhibit Hall, a Certified Exhibition by the International Association of Exhibitions and Events, was home to the latest technology developments and clinical trial experiences and products. More than 200 exhibitors were on-site to offer attendees a hands-on opportunity to explore new technologies, services, and innovative products. At select Guru Bars, Industry Theaters, and NIH Theater sessions, investigators learned about progress in learning and technology from exhibitors currently involved in trials.
[Back to Top]
---
Prominent Clinicians and Scientists Presented ATS Keynote Series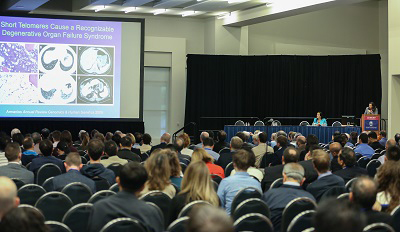 The ATS Keynote Series featured presentations from world-renowned clinicians and scientists, highlighted state-of-the-art lectures, and showcased major discoveries in pulmonary, critical care, and sleep medicine. Topics ranged from pathogenesis and management of drug-resistant TB, lung cancer trials in the age of precision medicine, and a geological perspective of climate change and global warming, to hypoxia-inducible factors in physiology and medicine, efforts to reduce infections and evaluate safety efforts, and cystic fibrosis lung disease.
[Back to Top]
---
The American Journal of Respiratory and Critical Care Medicine Celebrated 100 Years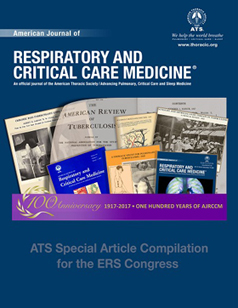 This year, the American Journal of Respiratory and Critical Care Medicine is celebrating its centenary. In a session dedicated to the history and impact of the AJRCCM, the editors shared the most important papers from the Journal that helped change practice. The session reflected on the goals of AJRCCM by emphasizing the importance of research, as well as pausing to celebrate a century of advances in medical science and how those developments are shared and reflected in improvements in publishing. In his keynote lecture Jeffrey Drazen, MD, editor-in-chief of the New England Journal of Medicine, explored developments in medical publishing and how they enhance the publishing field. This session was supported by an educational grant from AstraZeneca LP, GlaxoSmithKline, Mylan, Inc., Teva Pharmaceuticals, and Vertex Pharmaceuticals, Inc.
Learn more about the history of the AJRCCM and its importance to the progress of respiratory, sleep and critical care medicine.
[Back to Top]
---